Best Places To See The Fall Foliage In Northern Virginia
Written by Lia Hobel
Virginia's fall season draws leaf peepers from all over, and the changing tree colors never fail to impress. According to the Smoky Mountains 2021 Fall Foliage Prediction Map, trees in Northern Virginia will likely reach their peak by the end of October. We've rounded up a few of the best vantage points to witness autumn's beauty — from historic mansions to mountain views and everything in between.
For an equestrian leaf-peeping experience, attend the International Gold Cup fall races on October 23.
Spectators will be welcomed back to the International Gold Cup this year for the first time since 2019. The highly anticipated autumn event returns to Great Meadow in Warrenton on the fourth Saturday in October, which aligns perfectly with leaf colors predicted to be at their best.
Beyond the horses and prime people-watching, guests will undoubtedly set their gaze on the gorgeous fall backdrop as beautiful horses race by. Trees with lush canopies of burgundy, burnt orange, and golden yellow dot the horizon, creating nothing short of the perfect autumn scene.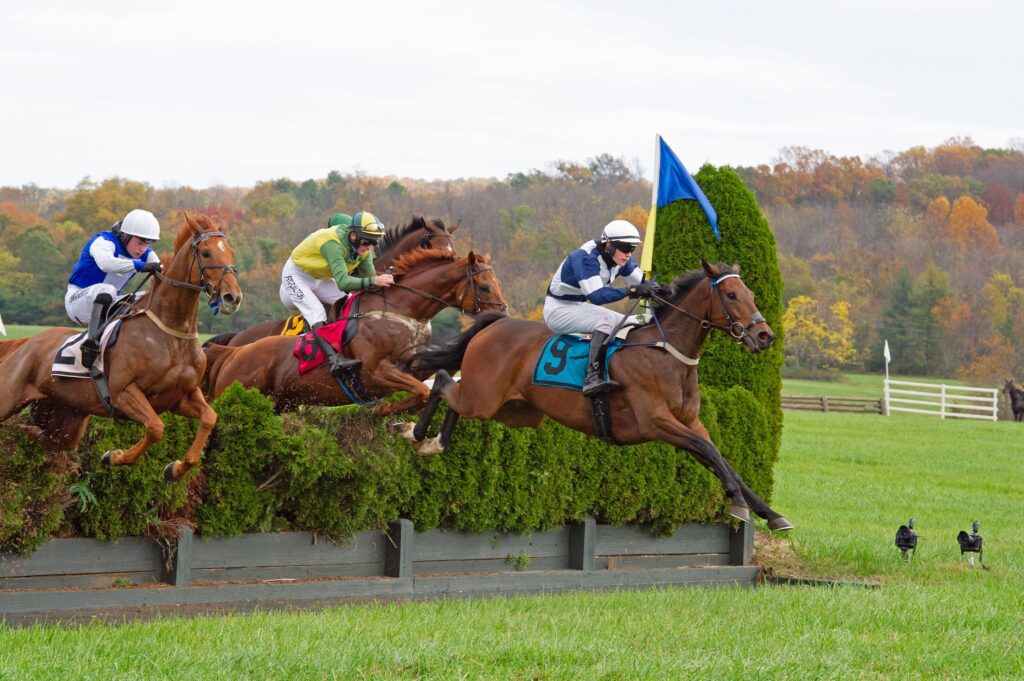 2020 International Gold Cup at Great Meadows. Photo by Richard Clay.
For a breathtaking drive, set out for Skyline Drive.
Skyline Drive is a noteworthy destination for capturing autumn's splendor. The National Scenic Byway runs 105 miles along the crest of the Blue Ridge Mountains starting north of the Shenandoah Valley at Front Royal to Waynesboro.
With Skyline Drive running the length of the Shenandoah National Park, there are numerous hiking trails and lookout spots worthy of catching the pops of color. For a magnificent view that extends a full 360 degrees, hike to the top of Mary's Rock in the Shenandoah National Park. The rock mantle offers views of Virginia's mountains and countryside. You'll want to park at Meadow Spring parking area, milepost 33.5. Another hiking destination to consider is Pinnacles Overlook at milepost 35.1. This area offers views by car in addition to a place to stop and picnic.
Before you make the trek to the Shenandoah Valley, you may want to check the fall color webcam, which is available daily at the National Park Service (NPS) website.
For an autumn skyline that radiates like sunshine, visit the Virginia State Arboretum in Boyce.
More than 300 ginkgo trees (Ginkgo biloba) are planted on the grounds of the Virginia State Arboretum, which are highly sought out in October for their fan-like leaves that turn bright yellow. Enjoy a family stroll and be sure to picnic beneath one of the many golden canopies.
The Virginia State Arboretum is part of the Blandy Experimental Farm, a research field for the University of Virginia. The arboretum is open to the public dawn to dusk, year-round at no charge.
400 Blandy Farm Lane, Boyce, Va. 22620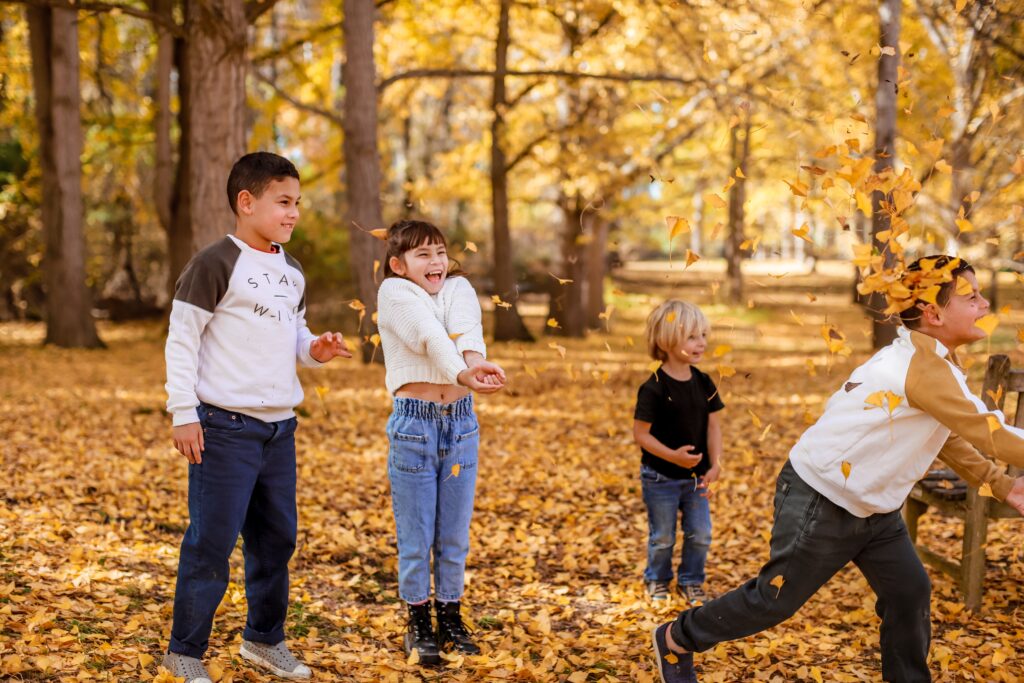 Virginia State Arboretum, kids playing in the ginkgo grove. Photo by Jennifer Gray
Plan a visit to Sky Meadows State Park.
Sky Meadows is another state park experience that sports stunning fall vistas with endless trails and picnicking opportunities. The park is less than two miles south of Paris, Virginia.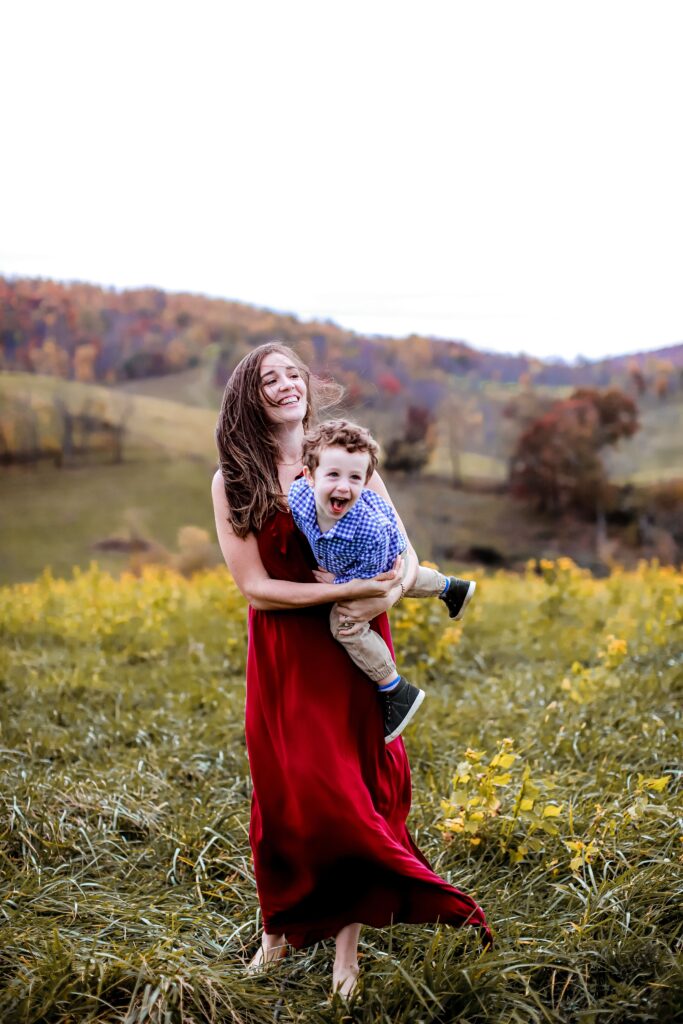 For a moderate hike in the Blue Ridge Mountains, consider Piedmont Overlook to Gap Run Trail. This is a 2.2 mile moderately trafficked loop that is good for all skill levels. There are 24 hiking trails to choose from at the state park with a mix of open fields that clear the way for autumn views across the Virginia Piedmont. Be sure to park and pick up a trail map at the Sky Meadows Visitor Center.
11012 Edmonds Ln., Delaplane, Va. 20144. The park's main entrance is on Rt. 710/Edmonds Lane.
Image to the right: Victoria Kennedy with her son at Sky Meadows State Park. Photo by Jennifer Gray
Hike Raven Rocks in Bluemont and end with a festive sip and exquisite fall view.
For a moderate trail that leads to an overlook of the Shenandoah Valley and Blue Ridge mountains, head to Raven Rocks in Bluemont. The 5.5mile out-and-back trail is worth every minute, as it leads to the horizon of fall hues.
Best of all, the trail is close to fun diversions that are equally perfect in October. Is there anything better than the crisp air of a fall day spent at a local brewery or vineyard, following a hike?
Just a few miles away from Raven Rocks is Dirt Farm Brewery and Bluemont Vineyards. Either choice is ideal, with huge outdoor patios and lawns to relax with a beer or wine, while soaking up the glorious views from the hills of Bluemont.
Take a stroll at Oatlands Plantation.
Situated on Route 15 near Leesburg is Oatlands Historic House and Gardens — a National Trust Historic Site and National Historic Landmark. The grounds at Oatlands can be enjoyed on a self-guided walking tour with plenty of room to wander and marvel at fall's loveliness. The beautiful rolling farmland is dotted with impressive trees, including a massive ginkgo tree that also carries the illuminating yellow leaves this time of year.
Additionally, there are boxwood alleys and other gardens over 200 years rich in history, as well as the luxurious mansion that's available to tour. The stately mansion was built in 1804 by George Carter, a member of one of Virginia's first families. The garden and grounds are open 10 a.m. to 5 p.m. daily.
20850 Oatlands Plantation Lane, Leesburg, Va. 20175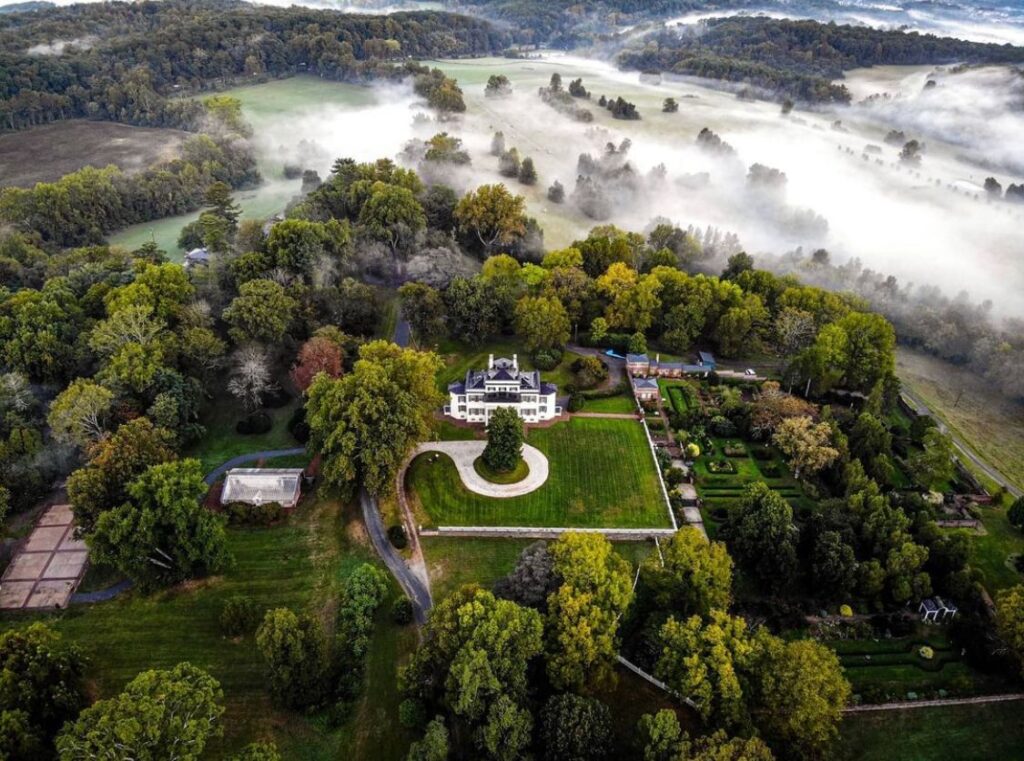 Oatlands. Photo by Path Aerial by Greg Morgan.
Also in Leesburg is Morven Park, which is definitely worth a fall visit.
Morven Park feels like a page from a storybook during autumn. There's something breathtakingly magical about walking the grounds with leaves exploding in yellow, orange, and red to create the perfect visual delight.
Home to the Davis Mansion, the estate includes 1,000 acres of lawns, trails, equestrian and athletic fields, and museums. The majestic façade of the mansion framed by the Sweet Gum tree with its autumn veil is the perfect spot to grab a photo. Be sure to book a tour and leave ample time to explore the grounds.
17195 Southern Planter Lane, Leesburg, Va. 20176
Enjoy wine and vistas at Breaux Vineyards.
For an outstanding wine tasting experience with some of the most spectacular fall foliage in Virginia, head to Breaux Vineyards. Located a short drive from the town of Purcellville, the 400- acre estate offers an open patio and landscaped terrace to relax and admire the changing leaves that blanket the skyline. Try a glass of one of the award-winning wines and have your eyes feast on trees wearing cloaks with all colors of the season.
36888 Breaux Vineyards Lane, Purcellville, Va. 20132
No matter which way you turn in Northern Virginia, you don't have to look far to experience the season's brilliant gold, orange, and red, colors. ML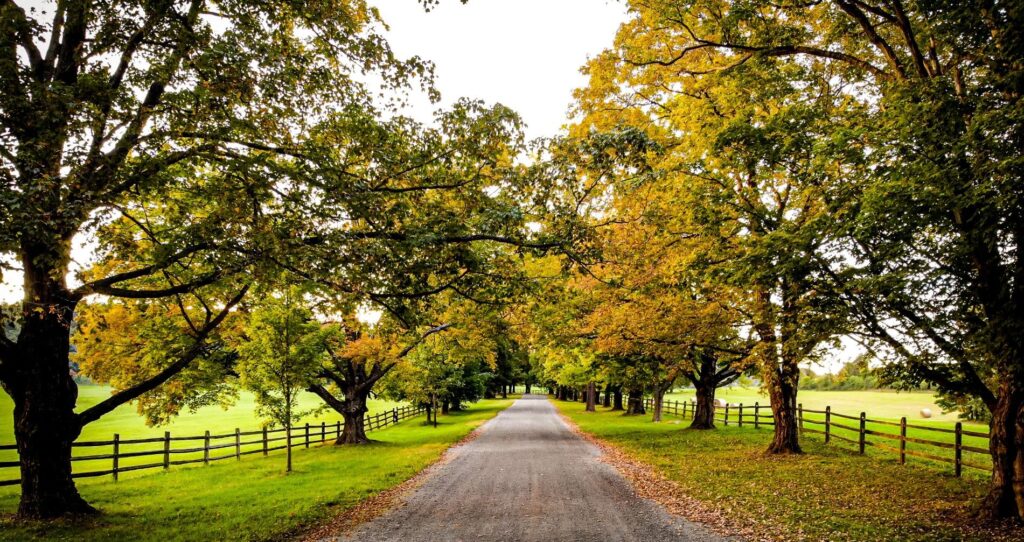 Oatlands. Photo by Path Aerial by Greg Morgan.
This article first appeared in the October 2021 Issue.