Rooted in Love at Bee's Wing Farm
Written by Lia Hobel
Tucked away in Bluemont at the foot of Buck Mountain is Bee's Wing Farm. The small flower farm grows thousands of stems to create seasonally unique floral designs. "There is a little something for everyone to find beauty in," says Chelsea Belle Graves, who tends to the flower fields. Through organic farming practices, the soil is treated as the soul that feeds the land so that love sprouts without waste or destruction. "I feel very blessed to provide an environmentally conscious option," Graves says, referring to her wedding floral services.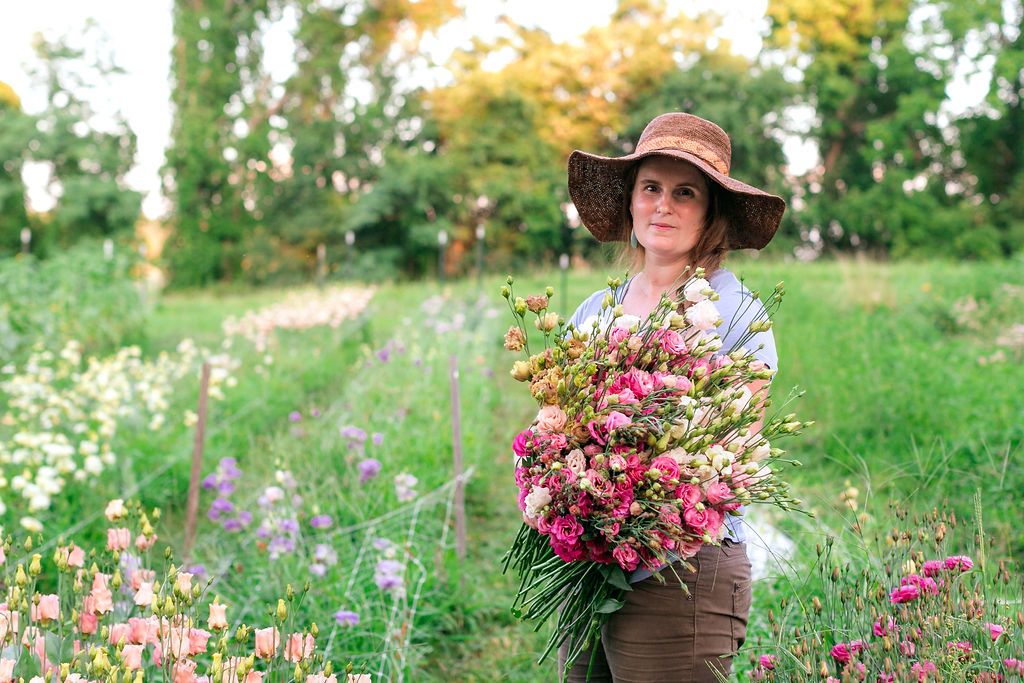 Graves has deep roots at the farm, as it is the very land upon which she was raised. "Feeling that connection to plants was something ingrained [in me] pretty early on," she notes, adding that her mother is a horticulturalist. "I feel like when we would go somewhere, she would always bring a really beautiful flower arrangement. At a young age, I was watching her do that and I was the designated flower holder in the vehicle when we drove to wherever we were going."
Following in her mother's footsteps, Graves also completed her horticulture degree at Virginia Tech. She spent time farming, primarily vegetables, in multiple locations, including in New Zealand. "The farms I worked on were vegetable [farms] but often they grew a [few] flowers and the flower element of my farming time was always my favorite," she recalls.
Upon returning to Loudoun in 2014, she remembers asking herself, "Why can't every day be flower day?" From that day forward, Bee's Wing Farm has grown exclusively flowers. Initially, the farm sold arrangements at flower markets and through Community Supported Agriculture (CSA) before jumping into the wedding industry. With her conservation and environmental science studies, Graves has always been mindful of consumerism and the way consumers impact the environment through their choices. "When I looked at the wedding industry, I saw a lot of choices that didn't tread very lightly on our environment. I was very inspired to give people another option," she explains.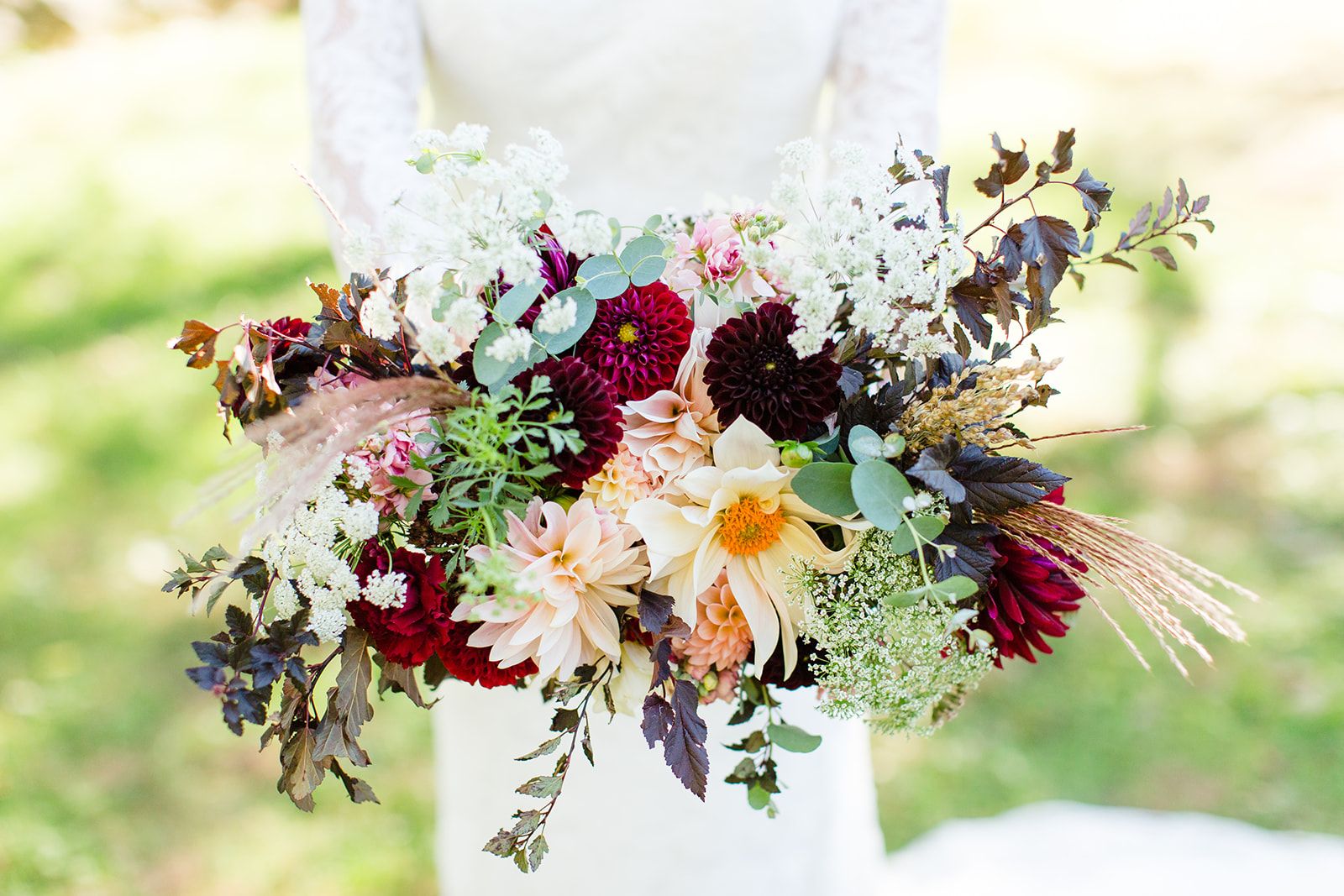 Knowing that weddings can be extravagant, Graves feels confident that she can give clients elegant choices that they can feel good about. From the organic practices down to the packaging, everything follows the reduce, reuse, recycle mantra. Arrangements are made without floral foam, and vessels are rented and reused. "If flowers can be repurposed, we will share them with other people or they'll go back into our compost pile to add fertility to next season's flowers. They're not ending up in a dumpster to sit in a landfill and not biodegrade," she further explains.
"Why can't every day be flower day?"

– Graves
Working with wedding clients whose views align with these beliefs is the most important criteria before ever conceptualizing floral designs. "I try to be really clear and transparent about what the farm can really offer them. Our [goal] is to use everything grown here on the farm. If we are missing a couple elements or let's say a crop was impacted by a weather event, we will supplement with other locally grown flowers." Furthermore, blooms are chosen based on what is in season. Potential clients can find a flower guide on the farm's website, broken down by month. Once a client chooses a color palette, Graves will collect flowers that will best achieve the desired color for floral displays and the bouquet. "I think we really value a couple that leaves the flower selection in our hands, but we always honor color palette, styling, and aesthetic preferences. But the actual flowers are chosen not necessarily by us, but by the fields and the greenhouses telling us what they're going to give us at that particular time."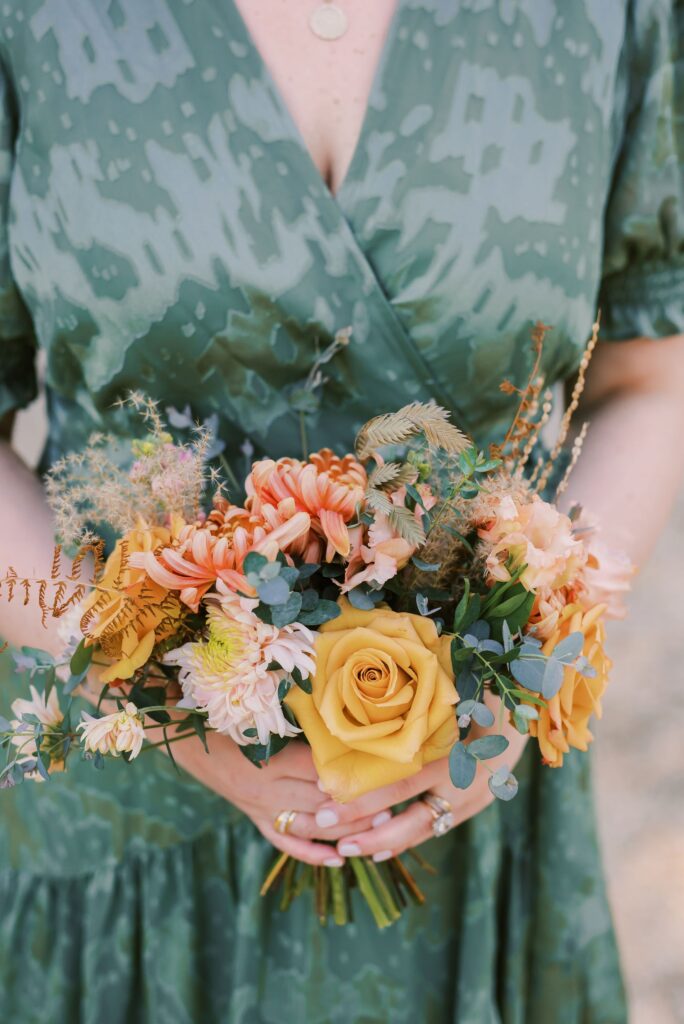 Left: Gold-toned roses add warmth to coral and eucalyptus shades in this petite wedding party arrangement. Photo by Maddy Williams Photography. Middle: Bee's Wing Farm makes unique boutonnières with homegrown blooms. Photo by Maddy Williams Photography. Right: A pale pink and white bouquet with plenty of interesting greens. Photo by Whole Heart Studios.
If a client must know exactly what will be in their arrangements or bouquet, Graves will often refer them to another designer who is willing to buy flowers from elsewhere. "We are not Amazon where we can say, 'Yeah, we are going to have this exact product.' That's not how farming works. It's often not how small businesses work," Graves emphasizes. However, as a local flower farm, Graves can often plant seeds to produce the desired color or bud type with advance notice and proper climate.
Bee's Wing Farm creates lush, whimsical, garden-inspired arrangements. What Graves does not create are "lollipop, super uniform bouquets." She explains, "It doesn't really come out of my hands naturally." Graves loves the ability to walk around the farm and pick a few unique stems that could be the "crowning jewels" of a bridal bouquet. "I get to spend a lot of time with these flowers," Graves says. "The ritual really begins when I sow that seed. I really love sowing and knowing who is going to be holding those flowers in a few months."
To work with Graves, she always appreciates at least a year's notice, but ideally prefers 18 months, since she sometimes grows flowers specifically for an event. Each couple receives a custom proposal with descriptions of their items and inspiration photos. "I feel like I have all this intimate, thoughtful time to be thinking of my couple's flowers," she says, describing the process from sowing to harvesting.
Flowers convey feeling and communicate care. According to Graves, locally grown flowers can provide a trip down memory lane for her clients when wandering around on a hike or passing a local garden. She wants her clients to see reminders of their special day as they go about life. "I just think it's really magical that people know that we need [food for the soul] and flowers are a source of that, and I feel very excited to grow that and put that out into the world." ML
This article first appeared in the February 2022 Issue.