Story by Rosie Powers | Photos by Isabel Kurek
As July starts, the 2019 Upperville Colt & Horse Show, the oldest horse show in the country, becomes memories of well earned ribbons and great rounds among the iconic oaks. As tents come down and people continue on to different horse shows, I look longingly at those empty rings imagining my rides from years past in anticipation for the next Upperville. The showgrounds that were filled with horses, riders, trainers, and spectators alike at the beginning of June blend back into the rolling hills of the Virginia countryside.
As an equestrian, I have ridden horses my whole life, I started competing at "A" circuit shows in the Massachusetts area when I was 10-years-old and spent my winters commuting on weekends to the Winter Equestrian Festival in Wellington, Florida. Before coming to Virginia to attend Foxcroft School in 2012, I had heard of Upperville but associated it with the fact that it was just another horse show. Now, seven Uppervilles later, it is no doubt my favorite horse show. Upperville is not only my hometown horse show, but also a place where I have grown as an equestrian and as a person. I started in the 3' Children's Hunters as a 17-year-old in 2013. Held in the smaller hunter ring, my classes were all held on one day, Wednesday. At that age, the best part was that I got to skip school and play with my horse, Isabelle.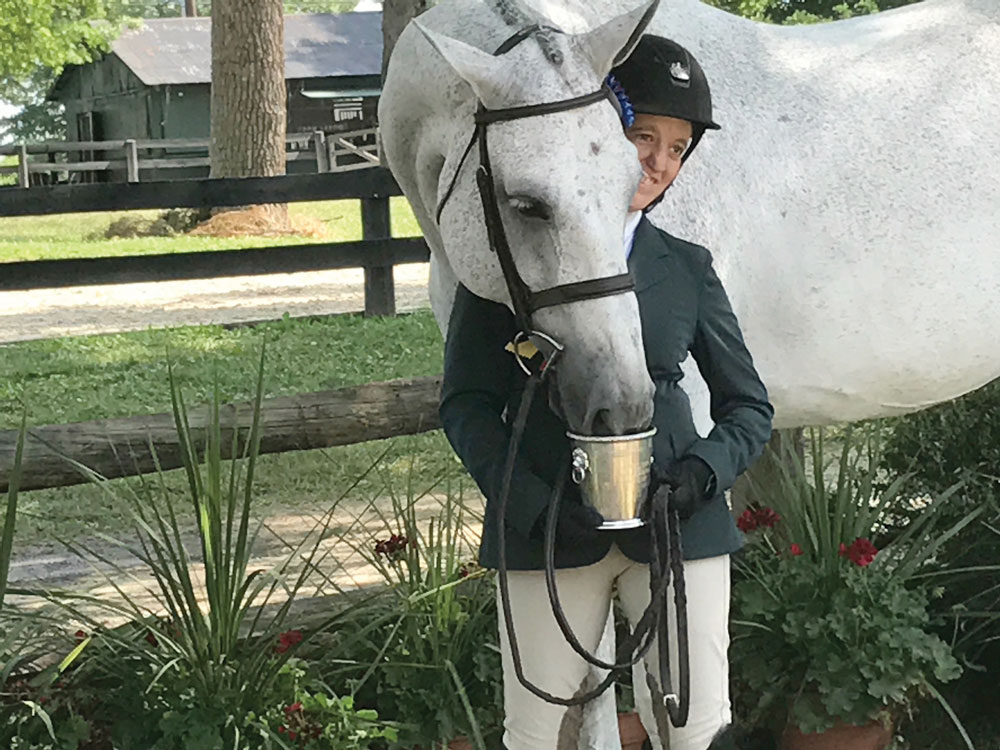 Fast forward to 2019 and my Upperville accomplishments have grown to competing in the 3'6" Amateur Owner Hunter-Younger, a 2-day division in the main hunter ring where I earned a ribbon in every class. I have also had the opportunity to spectate on jumper side and watch the Grand Prix classes where names such as McLain Ward, Laura Kraut, and Erin Ballard, the top equestrians in the world, are part of the starting order. However, the ribbons are just a small part of a horse show.
Upperville has allowed me to seek new opportunities such as showing in the jumpers, making lifelong friends, and watching and learning from the horse world's top professionals. Each year, I catch up with my friends who live far away and watch them show. The show has also allowed me to ride with my family.
In 2017, my mother, father, and I competed in the family class and placed second. This year I finished showing in the Amateur Owner 3'6" 18-35 division with my horse, Carabello, on Friday and handed the reins over to my father for Saturday's competition. After a lesson in the schooling area, my father and my horse entered the Main Hunter Ring for the Piedmont Invitational Hack and came away with second place.
This year, I also saw Upperville Colt & Horse Show from a different perspective as an intern for Middleburg Life. Tasks included spending time behind the camera, getting pictures of the USHJA International Derby, distributing magazines to all of the barns, and placing them in the exhibitor tents. Working for Middleburg Life allowed me to see the horse show from the spectator perspective and made me realize that we truly do this sport for the love of the horse.
This article first appeared in the July 2019 issue of Middleburg Life.