Story and photo by Leticia Headings
At this year's Middleburg Christmas parade on Dec. 7, Jeffrey Blue will not only celebrate his birthday, but also his 28th year of leading the Middleburg Hunt through the center of town. 
"There hasn't been a time coming down Main Street that hasn't brought a tear to my eye, doing what I love so much," remarks Blue. Since December of 1991, he has served as Joint-Master of Foxhounds (M.F.H.) for the prestigious Middleburg Hunt.
For the tens of thousands attending the holiday parade, seeing the iconic image of 40 hounds, give or take, leading the hunt on horseback through Middleburg is as exciting as catching a glimpse of Santa himself. "You go down the street and everyone's wishing you a Merry Christmas, we're wishing them a Merry Christmas. You see beautiful, smiling faces. It's amazing," says Blue. His journey down the Christmas corridor has been happening almost as long as the parade itself.
His affection and everyday involvement with horses and hounds is a stark contrast to his Washington, D.C., upbringing. As a kid, Blue, his older sister, Adrianne, and younger brother, Paul, a resident of Middleburg, weren't allowed to have any pets, despite Jeff's yearning for a dog. The celebrated M.F.H. didn't even start riding until he was 28 years old, commenting, "I was not born to fox hunt."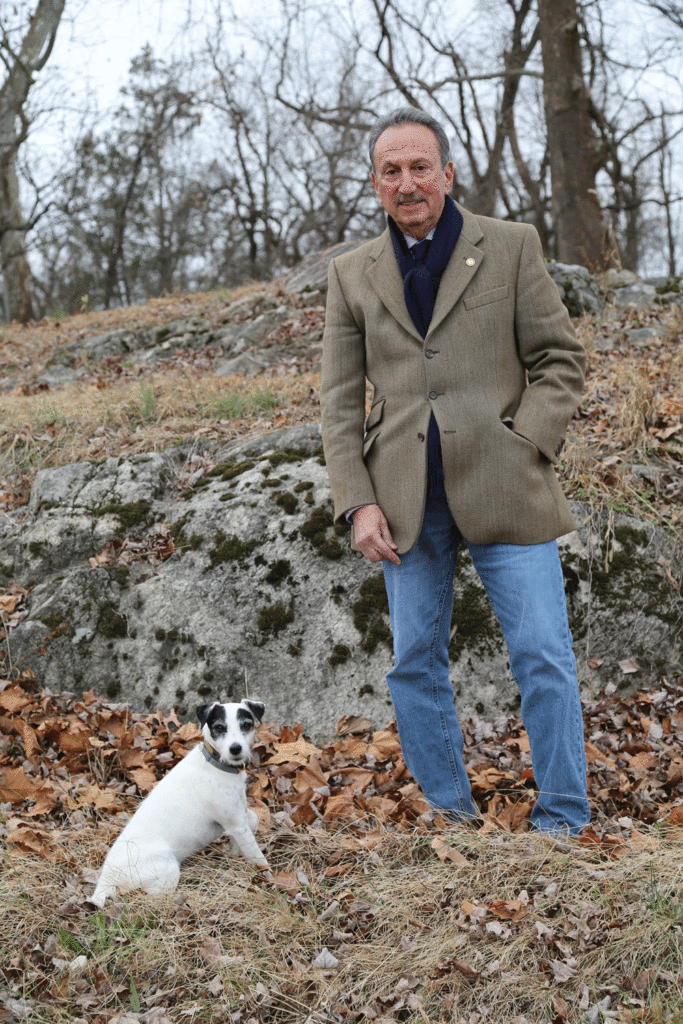 Born-and-raised a city boy, Blue later founded a successful D.C.-based graphic arts company. In 1973, he moved to the country, commuted to the city three days a week, and started taking riding lessons. Through a friend, he found riding coach, Olympian Jimmy Wofford, and excelled in his equestrian endeavors.  "I was green, but brave." 
Hunting came later, first with Piedmont and then with the Middleburg Hunt. "I didn't know anything about hunting or hounds. Like most people, I started hunting for the pleasure of riding. I hunted to ride." That hobby turned into a big labor of love and recreational responsibility for him. "It's almost a full-time job. In some ways, it's a great honor. In some ways, it's a thankless job. I do it because I give back to the community in whatever way I can," he says.
One key factor to his foxhunting philosophy is taken from being a businessman.  "One thing I've learned to do in business is be a good partner. Everyone has to be going the same direction. If that's not the case, there's no partnership." He revers his fellow Joint-Masters, Penny Denegre and Tim Harmon, and it's important to all three of them to firmly uphold the tradition of the sport. Denegre joined Blue as Joint-Master in 1994, and Harmon in 2016. Each has a specific set of duties that are carried out almost daily, but together, they determine the important decisions that allow the hunt to be successful year after year. 
Established in 1906, the Middleburg Hunt has a rich history that carries with it over a century of fascinating stories in its annals. With brazen authority, Blue states, "It's Middleburg, it's about fox hunting. It's the most important fox hunting town in the United States." 
Perhaps equally important to the sport are the striking Blue Ridge views that accompany foxhunters as they frolic – bucolic fields and farms surrounded by idyllic mountains. "It's some of the most beautiful country in the world, there's no question about it. It's breathtaking," he says.
The privilege of riding through these vast swaths of majestic land is due to generous landowners, without whom the thrill of the hunt would not exist. Blue is indebted to the kindness of these people because he notes, "You can have the best huntsman, the best horses and the best hounds. If you don't have land, you don't have anything."
Above all, it's about the joy of riding, establishing camaraderie in the hunting field, and adhering to the same traditions that have anchored the sport since the last century. Most importantly to Blue, "I love to show good sport and put people in the right place to see good sport and share the excitement of the day with my friends and acquaintances. I want them all go home high as a kite from the exhilaration of the day. You can live off that [exhilaration] for a week or two at a time."
For not having grown up with dogs, Blue has made up lost time over the years, often finding a retired hound or two on his couch along with his cherished Jack Russell terrier, Goggles. He adores the hounds that make a day's hunting possible, saying, "American Foxhounds are a remarkable breed of hounds. They're wonderful pets, they are as sweet as they can possibly be and they are dead serious about their fox hunting."
On the heels of his 28th year as Joint-Master of Foxhounds, Blue enthusiastically reflects on his storied hunting career.
"Foxhunting has been very, very good to me. I've had a good time, met a lot of wonderful people. I've had some fabulous horses and I've come to respect a lot of wonderful hounds. It's as beautiful a sport as can be and to be able to have enjoyed it when I wasn't allowed to have a dog growing up, I've overcompensated. It's fabulous." ML
This article first appeared in the December 2019 issue of Middleburg Life.