By Dulcy B. Hooper | Photos by Richard Hooper
For all of the dozens and dozens of times my husband Richard and I have driven through Warrenton en route to Charlottesville, Richmond or Lynchburg, I had never actually set foot in Warrenton. Adding to that, I knew absolutely nothing about its historic Old Town.
Named for Revolutionary War hero Joseph Warren, the Warrenton Historic District was listed on the National Register of Historic Places in 1983. Old Town Warrenton is a gem and a treasure, with a palpable sense of history going back to its founding in 1810.
After our visit to the Fauquier History Museum at the Old Jail and some window shopping, it began raining again. Just in time, our next stop was Gateau, located at 12 Culpepper Street. Gateau is an award-winning bakery, cafe and tea room. Looking through the windows was impressive enough. Once inside, it was clear that we were in a very special place. "Why have we not been here before?" I asked Richard.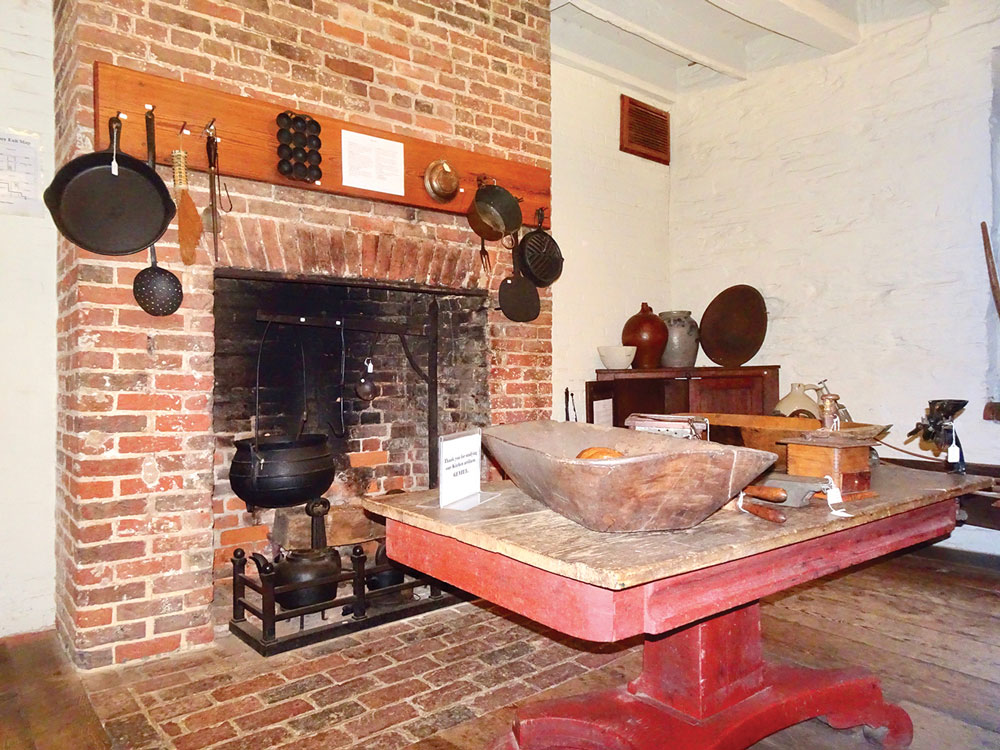 Chef and owner Lora Gookin began creating cakes many years ago. She is a civil engineer by training, and making and decorating cakes was a hobby. In 2008, Gookin took that hobby to a new level, attending the Le Cordon Bleu College of Culinary Arts in Scottsdale, AZ. "We make everything from scratch here," she said. "All of our cakes and breads and the cafe menu items are made using unbleached and unbromated flour, no shortening, aluminum free leaveners and organic ingredients."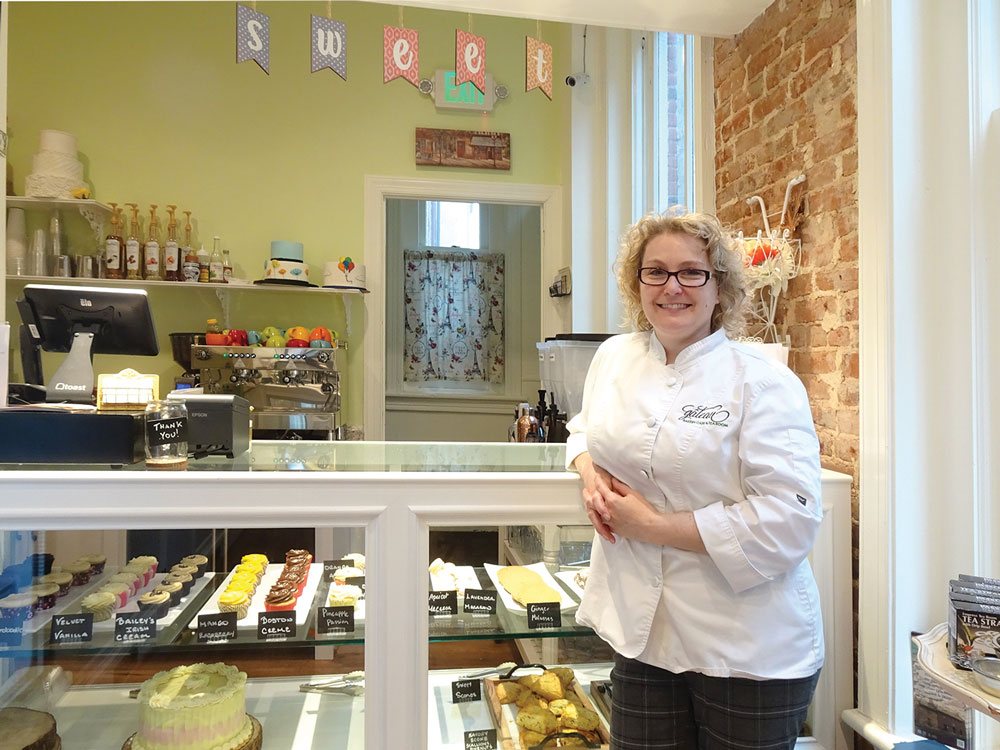 Gateau opened on Nov. 22, 2017, following a 10-month renovation of the building. Given her background in engineering and architecture, Gookin was involved in every aspect of the renovation. The building, which dates back to the late 1800s, had several owners and tenants, among which was a bank in the early 1900s. During the renovation, Gookin made sure to showcase the original vault doors of the bank, which are in the main seating room and can be enjoyed by visitors. Gookin also pointed out the exposed brick and original wood floors.
Gateau's cuisine is primarily French and American light fare, with all-day brunch and lunch. There is an extensive list of teas, and beautiful teapots and other items that would make lovely gifts. I could have happily ensconced myself in the ambience of Gateau for another hour or so, perhaps enjoying another biscotti and Americano, but we had more to discover in Old Town Warrenton.
We made our way down the street to the Book Cellar, which is located in the downstairs of the John Barton Payne Building at 2 Courthouse Square. The Book Cellar just celebrated its 20th anniversary. It is entirely run by volunteers and sells only used books (hard bound and paperback), movies and CDs, typically costing 50 cents to one dollar. Inventory is refreshed every week, and the proceeds of all sales are donated to Friends of the Fauquier Library, where they are used for a variety of reading programs.
The Book Cellar has a good selection of affordable hardback and paperback books for children and adults on a wide range of subjects. Libraries throughout Fauquier County serve as drop off locations for books, which are then brought to The Book Cellar. In addition, books can be dropped off directly. To keep things moving, anything that is not sold in six weeks is marketed for quick sale.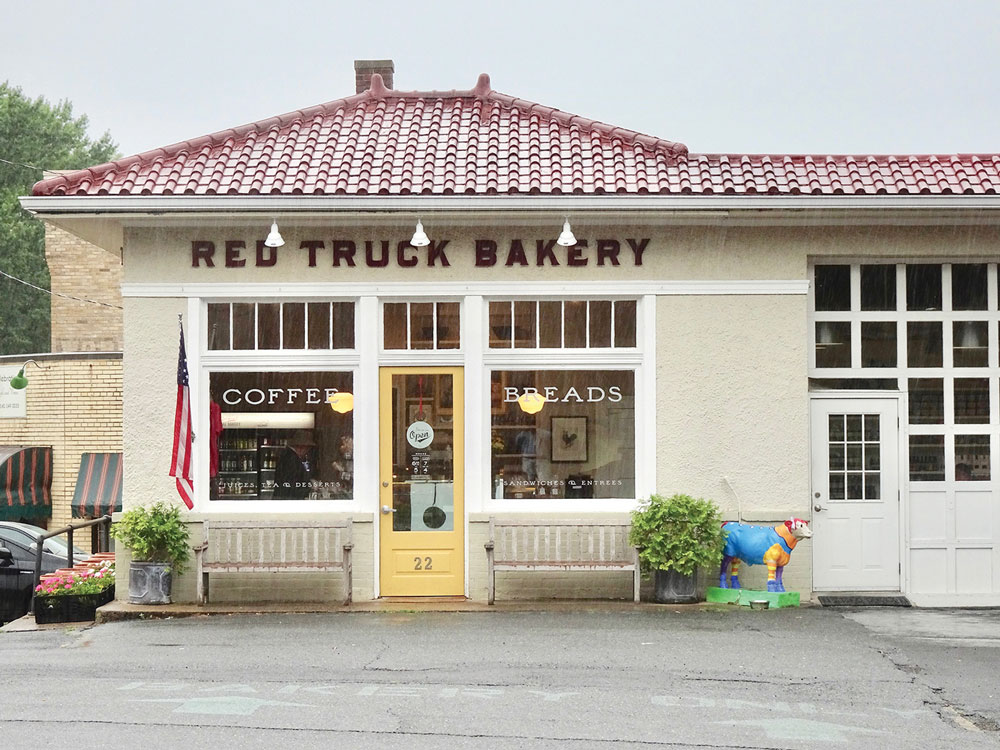 Our day in Warrenton was moving too quickly, and we realized we would not have time to stop into every place that looked interesting. We walked further down Main Street, past Latitudes Fair Trade; Earth, Glaze & Fire; Past Reflections; and Sherrie's Stuff. We will surely go back to all of these for further exploration.
While a knitting shop was not on the list of places we were planning to see, I was stopped in my tracks at Yarnia of Old Town, located at 92 Main Street. A knitting shop in Warrenton? I could scarcely believe my eyes. As I stood in the shop, taking it all in, Richard went back to the car (in the rain) to retrieve a knitted piece that I had made. Along with a wonderful selection of yarn, Yarnia carries accessories, gifts for knitters, and offers classes.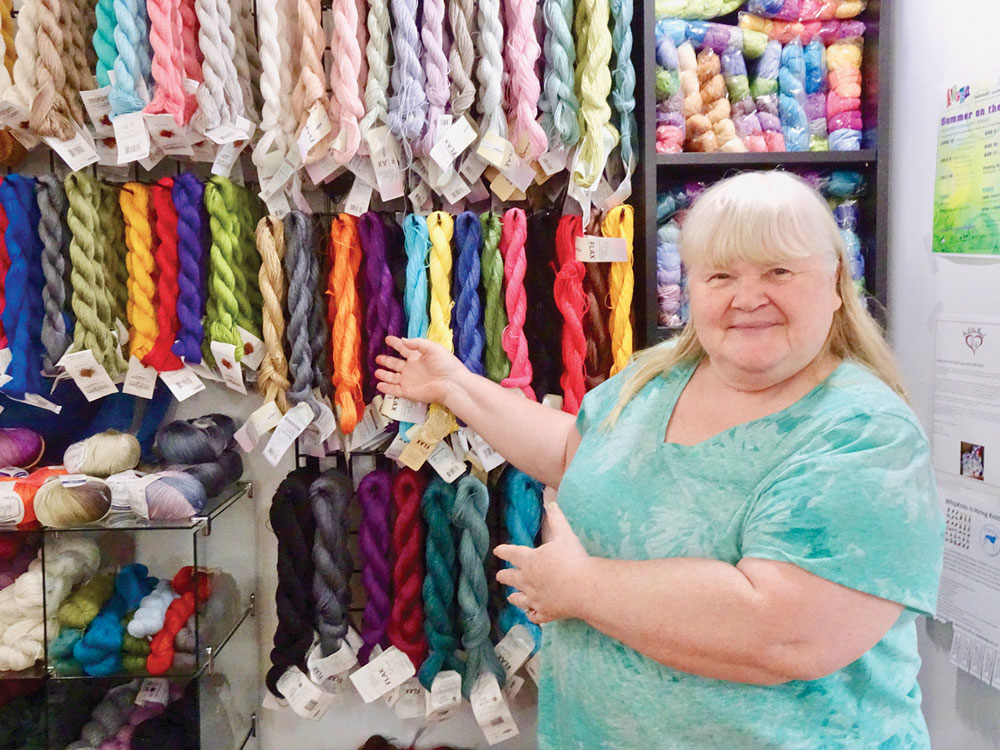 Marylou Embrey, owner of Yarnia along with her husband Richard, has had a love of knitting since the age of ten. In 2015, the Embreys opened The Red Thread on South Fifth Street. When they relocated to the historic district, they renamed it Yarnia of Old Town — and Richard Embrey took up knitting. "Oh, he is into it," said his proud wife. "And he's teaching in Georgia next month — a class on tatting."
Our next stop, at 100 Main Street, was The Town Duck, a major hub in Warrenton for over 35 years. The Town Duck outgrew its first two locations before moving to its current location ten years ago. The Town Duck is a gift shop, a wine and cheese shop, and more. It offers specialty food and fresh fish by special order. "You will find it all" at The Town Duck is no doubt quite accurate.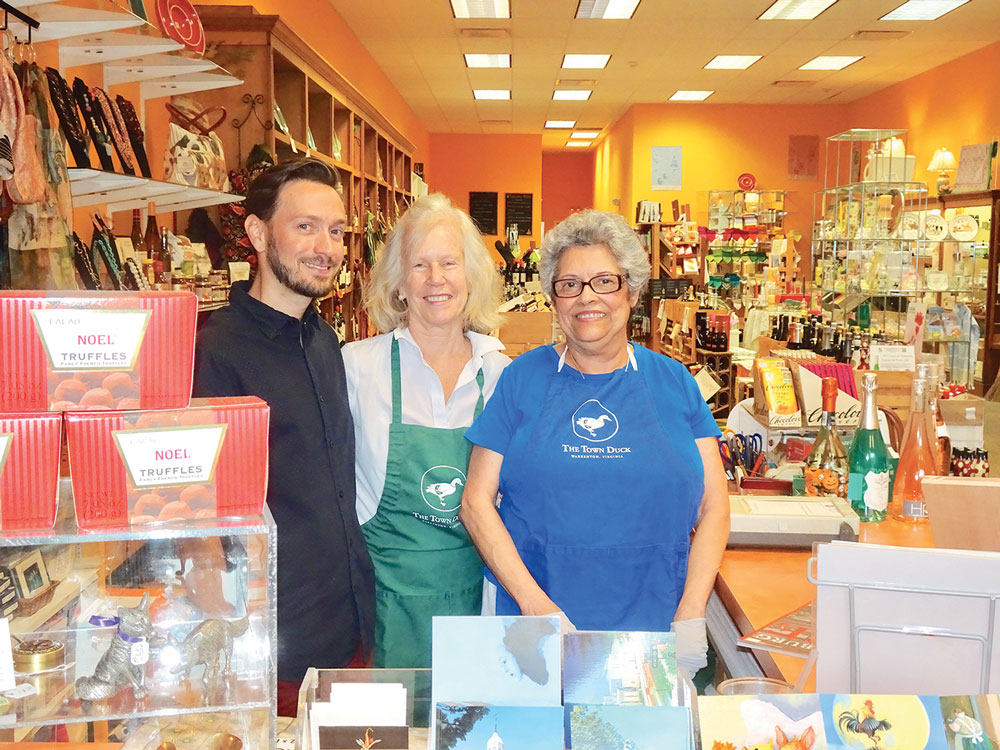 Owner Annette Johnson, along with Anne Schalestock and Robbie Ryan, graciously took time out of their day to discuss everything from The Town Duck's history to life in Italy and current politics. A delightful shop that we will definitely return to and recommend to others.
The Old Town Open Book was our next stop. Located at 104 Main Street, the shop opened earlier this year to "a crush of customers" and is Fauquier County's only independent book store. Sue Gruszewski, one of the managers, was manning the shop with her dog, Apollo. "The response to Open Book has been great since we first opened," she said. "We try to really be a part of this community." Rachel Sirene, one of the owners (along with Cammie Fuller and Chris Granger) said that their first event was a book signing with Red Truck Bakery owner Brian Noyes.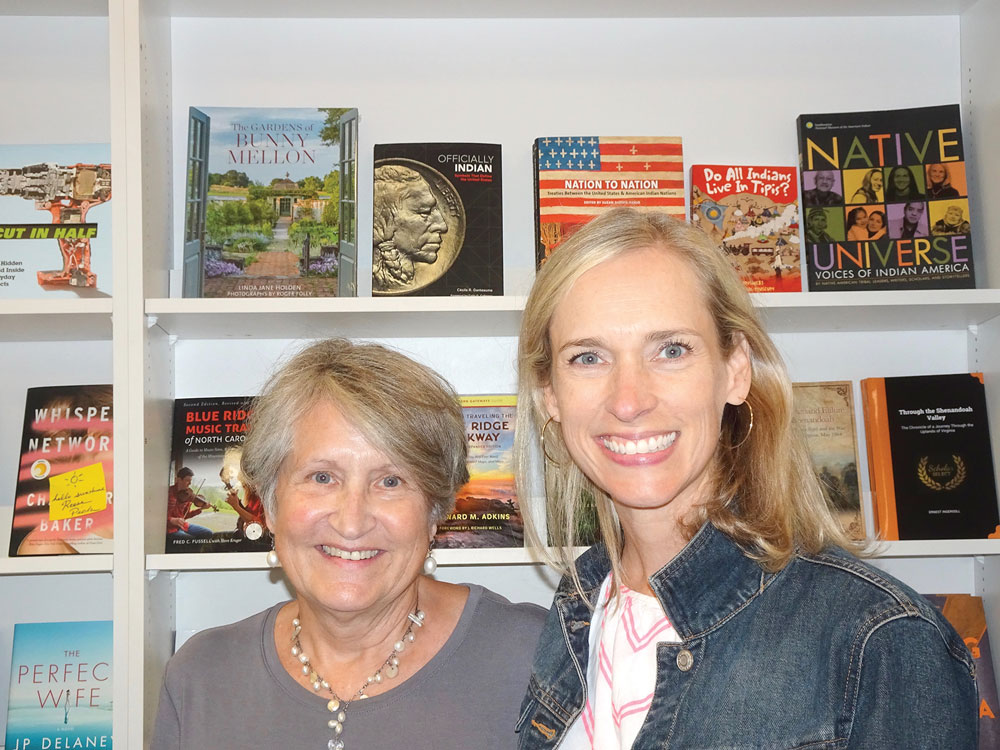 The shop's customized book markers no doubt resonate for many other shop owners in Old Town Warrenton: Here's What You Just Did
You helped promote a healthy economy.
Your support keeps Warrenton's Old Town unique.
You invested in a gathering place that fosters creativity and community.
A series of events for readers both young and old can be found on the Old Town Open Book website. While I can quite happily spend even more time in a book store than I can in a knitting shop, Richard suggested that it was time for lunch — in fact, past time. Fortunately, there were a number of interesting options. We selected Denim & Pearls, an Italian American restaurant located on the corner of 1st and Main Street. The atmosphere, food, and overall experience were perfect, as we reflected on all that we had seen in the last several hours.
Before heading home, our last stop in Old Town Warrenton was a greatly anticipated visit with Marion Maggiolo and a tour of her over-the-top Horse Country Saddlery, located at 60 Alexandria Pike. Richard was quite familiar with the shop and has known Maggiolo for many years, but I had met her only once (and all too briefly) many years ago and had never been in the shop I had so often heard about. Described as "the go-to guru of fox hunting," Maggiolo is all that, and more.
Horse Country Saddlery was founded by Maggiolo's family in 1970 and will be celebrating its 50th anniversary in 2020. "The best tack shop in the WORLD," is the emphatic description of one former joint master of a local hunt. That is no exaggeration: Horse Country Saddlery carries the largest and most comprehensive array of fox hunting attire and equipment in the world. At approximately 15,000 square feet, Horse Country Saddlery houses an overwhelming abundance of saddles, hunting tack, bridles, riding breeches, tweed hacking jackets, fancy Gold Cup hats for women, show ring attire and more.
And that is not all. Everywhere one looks, there are one-of-a-kind antiques, gold and silver jewelry, hunting bridles, hunting attire, silver and china; fabrics and lamps and pillows; books old and new on every aspect of hunting, horses and dogs. All is top quality, and everything has a story. Maggiolo is engaging, enthusiastic, and generous with her time. In addition to Horse Country Saddlery, Maggiolo is publisher of In & Around Horse Country, the official publication of the Virginia Steeplechase Association. As we were leaving, Maggiolo walked with us out to the car. "I have 21 parking spaces here," she said. "And that is a pretty good thing."
Sylvia McDevitt, director of membership for the Fauquier Chamber of Commerce, summed up the friendliness and sense of community we observed during our visit. "Warrenton is friendly and authentic," she said. "Our long-standing U.S. Post Office is a place where you might see someone you know and catch you up on things you might not read in the newspaper.
Some businesses are long established, and some are well on their way in their own right. There is such energy and positivity to improve what we have with innovation, dedication and creativity, which will serve Warrenton for years to come." ML
Fauquier History Museum at the Old Jail
Our day began in a serendipitous fashion: finding a convenient parking spot close to the Fauquier History Museum at the Old Jail (formerly known as The Old Jail Museum). With a morning drizzle picking up speed, that seemed as good a place as any to start our day in Warrenton.

The first person we met was Mary Randolph, a volunteer at the museum. Randolph's enthusiasm for her role and knowledge about the jail were impressive. Erected in 1808 as the sixth jail in Warrenton, the place where we were standing, she told us, was actually one of the jail cells dating all the way back to that time.

"Back then," she said, "selling broccoli on Sunday could land you in a jail. And that is a true story." Randolph gave us advance warning in anticipation of what we would see as we embarked upon further exploration of the museum. "Watch out for those mannequins," she said. "You will not believe how life-like they are." She was right about that.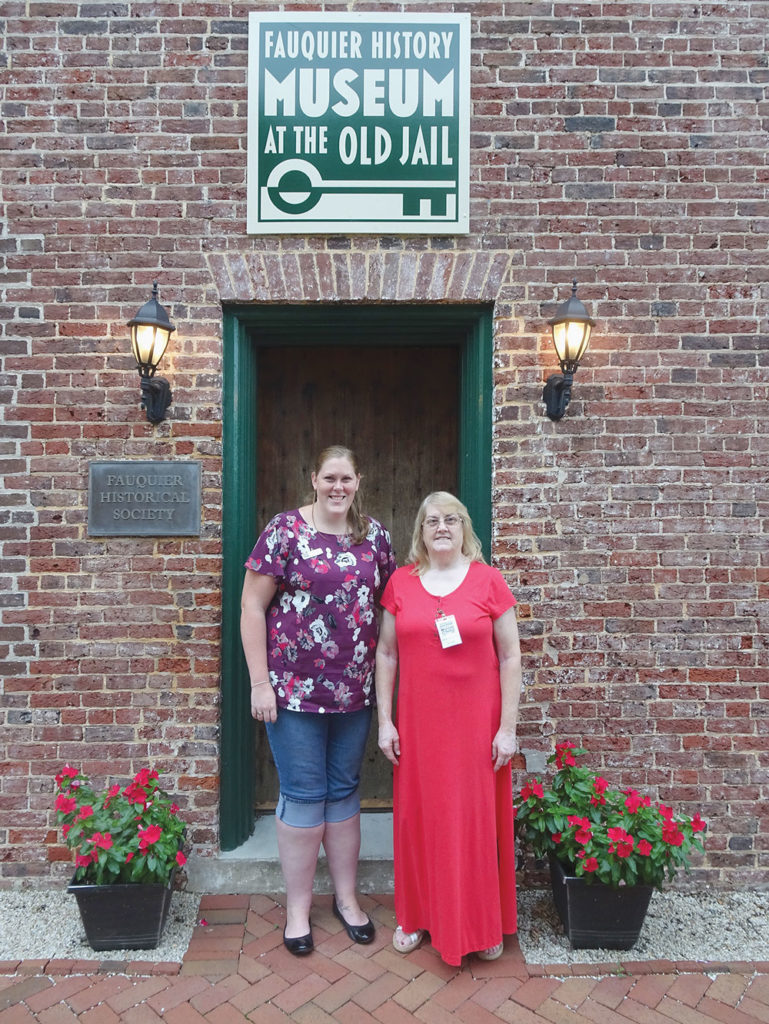 Before we made our way to the rest of the museum, I was standing near a shelf of books in the gift shop and noticed a number of books on ghosts. "Oh, yes," Randolph said. "This jail has a lot of ghosts. Those books sell out all the time." From unexplained voices and sounds to ghostly sightings, numerous incidents have been reported over the years by staff and visitors alike. I hoped that we would not be among them. Randolph said that she felt a distinct kick once, and suspected that a ghost was chastising her for having done a bit of rearranging.

We were soon joined by Erin Clark, executive director of the Fauquier History Museum at the Old Jail, who provided us with a written history of the Old Fauquier County Jail. The museum was voted "Best Local Museum" by The Fauquier Times Readers' Choice in 2018 and 2019. It is believed that during the Civil War, captured prisoners from both sides were held at the jail until they could be transported to prisoner of war camps. A Paranormal Tour and Investigation is scheduled for Sept.13.

"Oh, yes. We have a lot of mediums who visit us here," Randolph said. As we said our good-byes and left the jail, we noticed the Red Truck Bakery nearby, housed in an old gas station. With a temporary let-up in the rain, however, we decided to take advantage of the relatively good weather and keep walking, saving Red Truck for another day. ML
This article first appeared in the September 2019 issue of Middleburg Life.