Story by Laticia Headings
It should come as no surprise that someone as successful as Sheila Johnson is equally as talented. "I like being a mystery," Johnson says, smiling.
As a mother, musician, educator, hotelier, philanthropist, film festival founder, sports team owner, and executive producer, she believes in bridging the arts and business in everything she does.
An ardent supporter of the arts, Johnson serves on the Board of Governors for Parsons School of Design and funded the Sheila C. Johnson Design Center there. Last year, she chaired the New York Metropolitan Opera's season-opening gala of "Porgy and Bess." Locally, she established the Performing Arts Center at the Hill School.
In March, the Washington Performing Arts held a virtual gala in her name, honoring her contribution to arts and entertainment, titled, "A Celebration of Women."
Johnson credits a lifetime in the arts to her voracious work ethic. At 5 years old, she started playing the piano. In fifth grade, she began to master the violin. The prodigy later took violin lessons at the Fine Arts Music Conservatory, located 12 miles from her Maywood, Illinois, hometown.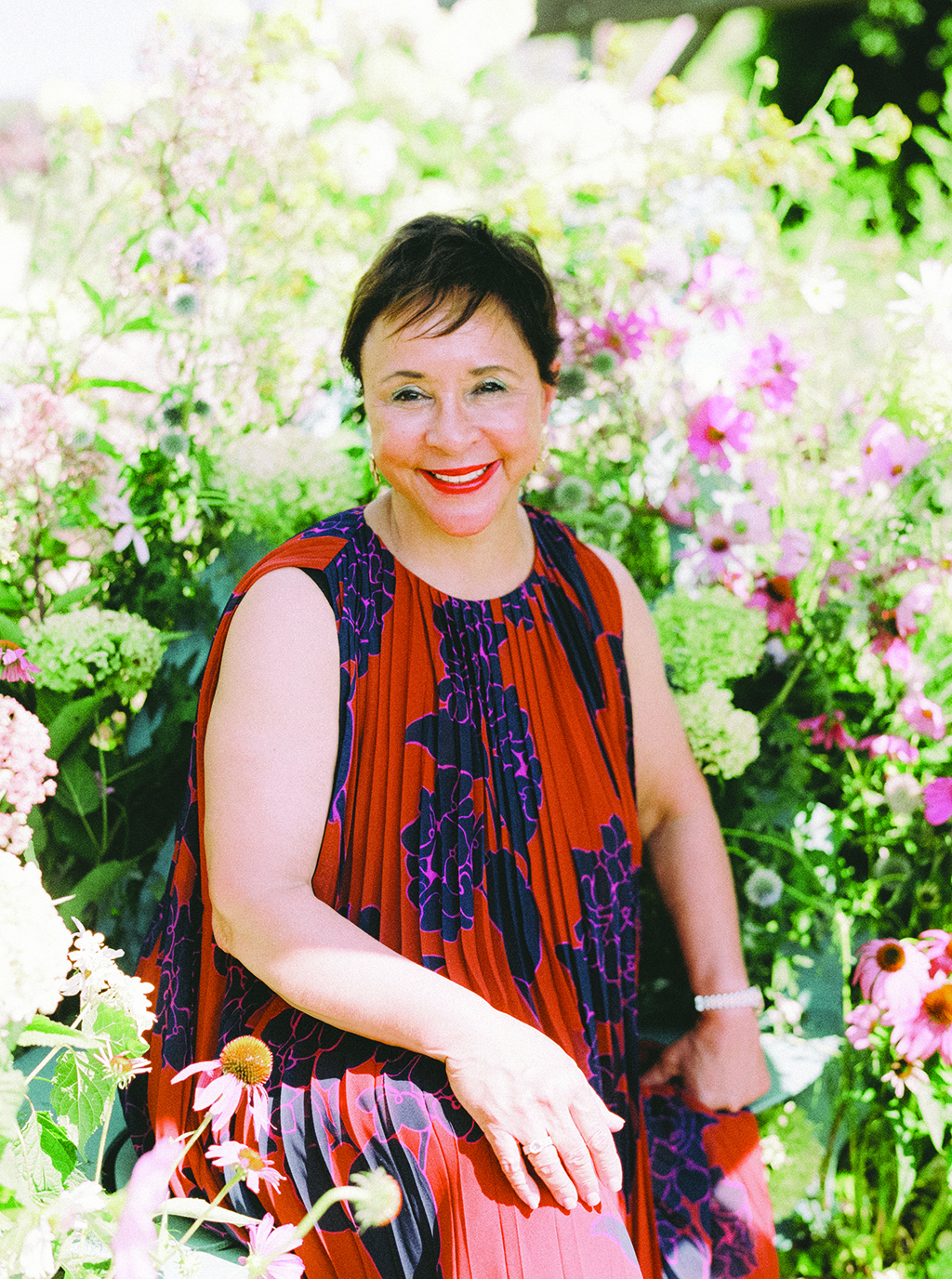 The floral design behind Johnson was created by Jenn Pineau of Nature Composed. Photo by Sienna Turecamo Photography.
Her talents brought various accolades, including being chosen as an Illinois Music All-State, selected to play with the Chicago Youth Symphony, and being awarded a full scholarship to the University of Illinois.
"The arts really establish discipline," she says. "I believe that every child should have some sort of an artistic background … it keeps you focused." Her latest endeavor is learning to play the cello.
Johnson went on to teach music. In 1972, she relocated to Washington, D.C., where she taught for three years at the elite private school, Sidwell Friends, before starting her own business. "Sidwell gave me the foundation to really get my career started as a business woman," she says.
In addition to teaching private lessons, Johnson created an orchestra called "Young Strings in Action," an ensemble of 110 of her students from different schools in the D.C. area. Ranging in age from 5 years old to high school, the unique group danced while they played. One of their local performances captured the eyes of King Hussein and Queen Noor of Jordan.
The orchestra was asked by Her Majesty Queen Noor to represent the U.S. at the 1984 Jerash Festival of Culture and Arts in Amman, Jordan, held annually at the biggest Roman site in the Middle East. Appropriately dressed in cowboy outfits, "Strings" was the only children's group in the festival.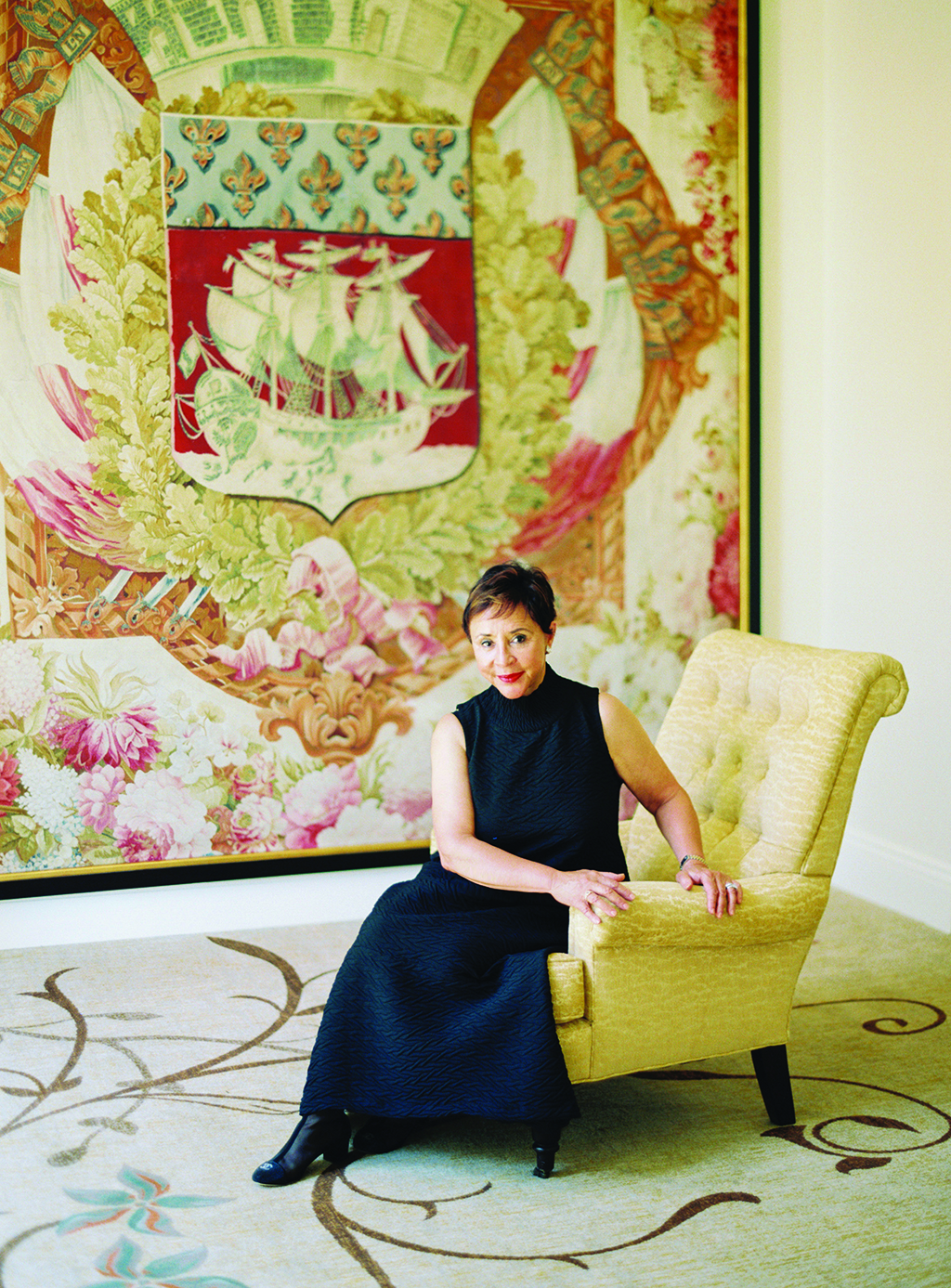 The tapestry pictured in the hallway came out of Napoleon's Palace and once hung in Johnson's home. Johnson selects all of the art on the walls at Salamander Resort and photographs some of the photos on the wall herself. Photos by Sienna Turecamo Photography.
"We came in dancing behind the Dixieland Jazz Band and when we got up to the throne, all of the sudden, King Hussein stood up … and embraced every one of the students," Johnson says, smiling. "It was one of the highlights of my musical career."
The orchestra was invited and privately flown back to Amman three more times. Johnson's rapport with the royal couple led to her being asked to establish a music conservancy in Jordan, still operating to this day.
Constantly recreating herself is partially why the CEO of Salamander Hotels & Resorts has been able to overcome the challenges of a global pandemic in an industry that has been hit devastatingly hard.
"Nothing is going to tear us down," she says, stating the symbolism of the salamander and the name of her farm which means "perseverance, courage, fortitude, and resilience. That's my motto."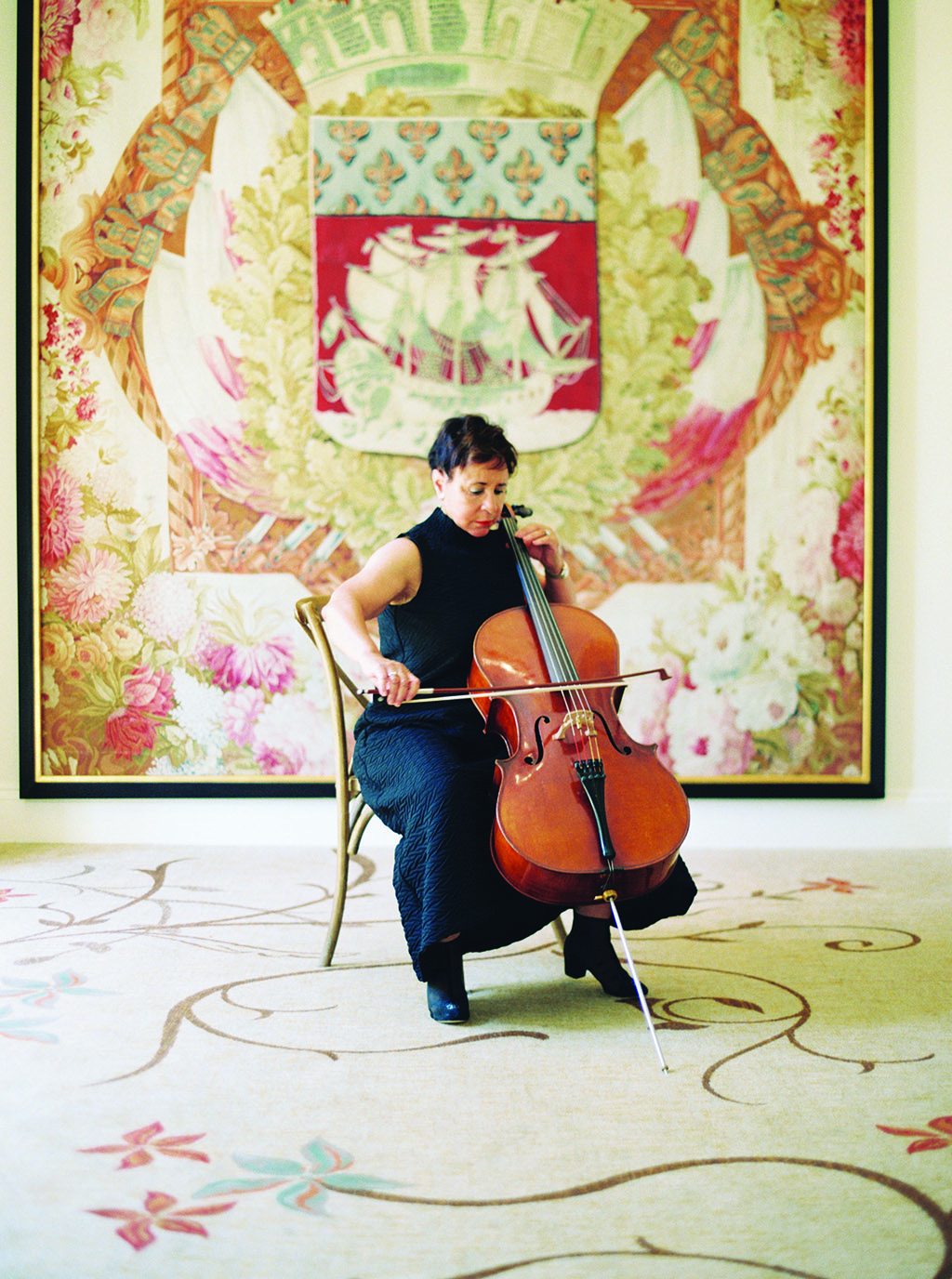 Being closed for 13 weeks allowed time for the resort, which normally operates at high occupancy, to undergo a deep cleaning and deferred maintenance upgrades. "My entire corporate staff and resort team have been amazing," Johnson says. "It looks better than ever … and that's been the silver lining."
Resort general manager Reggie Cooper says every single aspect of daily operations has changed. "We have eight ambassadors who, each day, do a full inspection of every operating department to make sure all the protocols are being followed," he says.
Cooper and Johnson feel a deep responsibility to the community. "We're very important to the county of Loudoun … and we want to set an example of how it's done," Johnson says.
Making the decision to break into the hospitality industry came in 2002 after selling Black Entertainment Television — the network she co-founded — her divorce, and much reflection. "I felt as though it was time for me to sit back and reflect on what I really wanted to do," she says. "I still had a lot of life ahead of me and a lot to give."
After looking at the 340-acre property where the resort now stands and doing a feasibility study, Johnson knew this was her "next act in life."
"I think there's a spirit in all of us that are part of this at a senior level that we are doing something some said could never be done or some say would never be successful," Cooper says.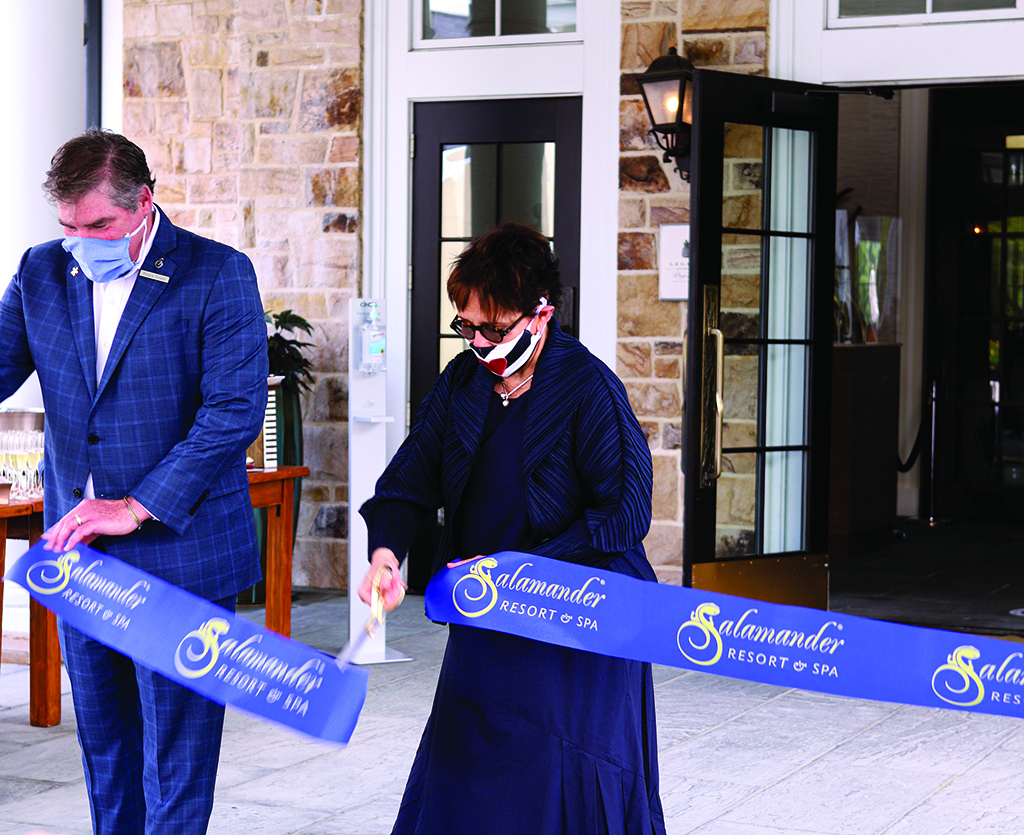 Reggie Cooper and Johnson at the post COVID-19 shutdown re-opening ceremony at Salamander Resort.
In 2019, Johnson was in Milan and cried when she found out Salamander Resort & Spa received a Forbes Five-Star rating, six years after the resort opened in August 2013. "I've been working for that since the moment we put the shovel in the ground," Johnson says. "When you are going after a Forbes Five-Star, you think about that from the very beginning."
The Salamander Hotels & Resorts portfolio has expanded and now includes Salamander Resort & Spa in Middleburg, Hotel Bennett in Charleston, South Carolina, Half Moon in Montego Bay, Jamaica, and two Florida resorts: The Henderson in Destin and Innisbrook Resort in Palm Harbor.
Even with her five-star success, art is at the heart of it all. "If you look around this resort, it's art," she says. "All of the artwork is part of me. I want to create theater. You're stepping on a stage as soon as you come in the front door." She even shot some photography in the resort, including pieces displayed in the guestrooms.
As always, Johnson bridges the arts with business. When friend and fellow filmmaker Robert Redford walked the resort's property before it opened, he told her she should start a film festival. At that time, she had executive-produced several documentaries and sat on the board of Sundance, Redford's critically acclaimed film festival in Park City, Utah.
Not daunted by the copious details of executing Redford's idea, Johnson saw an opportunity.
"The film festival is all part of that creation of the arts," she says. "To be able to put that on here has just been amazing. It fits right in with what this whole resort is about. It's transformative. I want people to be transformed inside and out in their thought, their mindfulness."
Most likely, health and safety concerns will necessitate that the annual Middleburg Film Festival (Oct. 15-18) go virtual in its eighth year. Johnson and her team promise attendees will still experience the best in films, engage in conversations with leading filmmakers and actors, savor fine wine and local cuisine, and enjoy the festival's signature concert honoring a noted film composer or songwriter.
"I'm just plain, old competitive in every aspect of my life," she says. Her competitive edge has earned her the title of being the only African-American woman to have ownership in three professional sports teams: the Washington Mystics (WNBA), the Washington Wizards (NBA), and the Washington Capitals (NHL).
When she was given the opportunity in 2005 to buy the Mystics, her lawyer advised against it. "I said to him, 'If you were offered that, what would you do?' and he hesitated," she says. "I said, 'You just gave me your answer.'"
She countered the ask with an offer to Ted Leonsis, Chairman of Monumental Sports & Entertainment (MSE, then Lincoln Holdings), to buy into not just one, but three sports teams.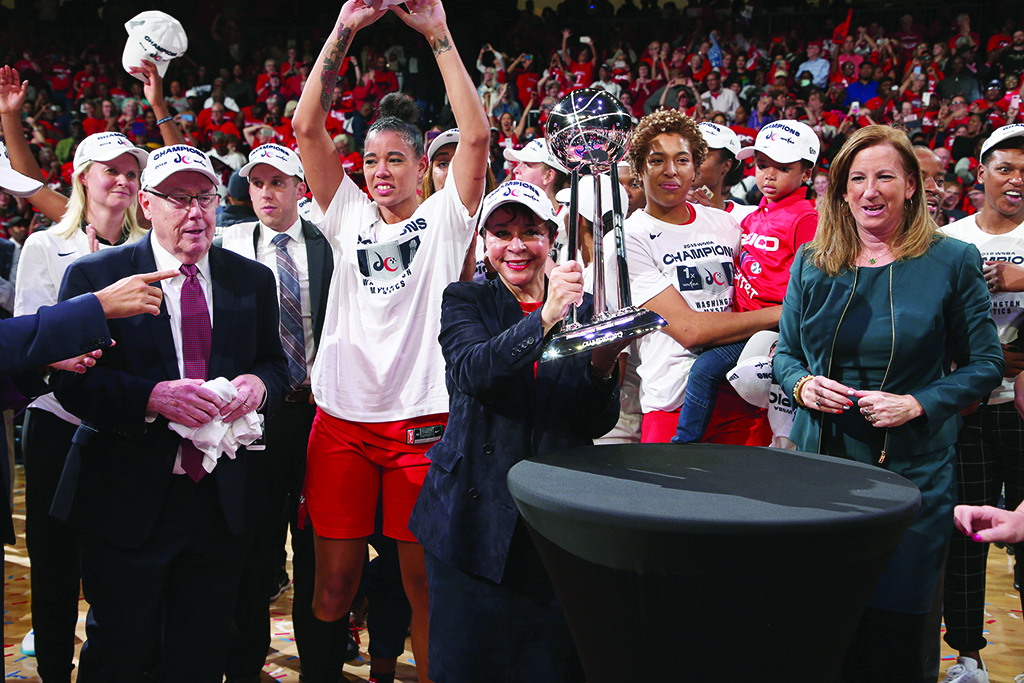 ohnson with the team. Photo credit: The Washington Mystics.
"You get a woman and an African-American," she told Leonsis. "No other sports team has that. He went to his partners and I got voted in."
As President and Managing Partner for the Mystics, Johnson watched the team grow over the past 15 years and waited for a championship, which finally came in 2019. She says it was worth the wait, and she even designed the championship ring for the ring ceremony at the Salamander Resort in July 2020.
"It was emotional. There were tears," she says of the team that hadn't been together in months.
Johnson's passions in life are reflected by her many philanthropic projects. "Philanthropy is very important to me," she says. "It really helps me a lot psychologically to know that I've done my fair share of trying to lift others."
Johnson is the vice-chair of the board of directors for the Trust for the National Mall and the chair of the capital campaign to redesign and rebuild the U.S. Park Police horse stables for the mounted unit on the National Mall. After seeing the condition of the outdated stables, temporarily built in 1976 for the bicentennial, Johnson was horrified. Moisture problems and poor ventilation were posing safety concerns for both the officers and their horses.
"We now have the funds to begin construction in late September with estimated completion in fall of 2021," she says. The $15.2 million campaign enables building state-of-the-art, environmentally sustainable stables with an education center where visitors can learn about the horses and the mounted unit.
The philanthropist was a longtime global ambassador for CARE, a humanitarian organization fighting global poverty. In 2016, she created a fellowship at the Harvard Kennedy School for 50 student leaders to address disparities in underserved communities.
A fierce champion of diversity and equality, Johnson believes in the importance of awareness through education. She grew up during the MLK riots outside Chicago, was one of 100 African-American students at a college of 52,000, and the only Black student in her music school.
"I experienced firsthand racism at its highest level," she says. "I did not let it stop me." Given the current state of race relations in America, Johnson admits, "I'm a grandparent now and if things don't change, I worry about [my grandchildren's] future."
But events like Middleburg's peaceful June protest celebrating the beauty and importance of Black lives are making strides. "I think it brought awareness to this community … and was done beautifully and very thoughtfully," she says.
Johnson has made her mark on a wide range of industries and stays focused on growing her hospitality business despite the pandemic. She admits that in the absence of her constant travel schedule over the last few months, she's had more personal time.
"It has made me slow down a little more and take care of myself a little better," she says. The mother of two has enjoyed spending time in her own hometown with her family and husband, Arlington County Judge William Newman.
"I love it here," she says. "I feel comfortable here. People say, 'You look better than you have ever looked,' and I'm like, 'Yeah, I'm happy!'" ML
This article was first published in the August 2020 issue of Middleburg Life.