Written by Bill Kent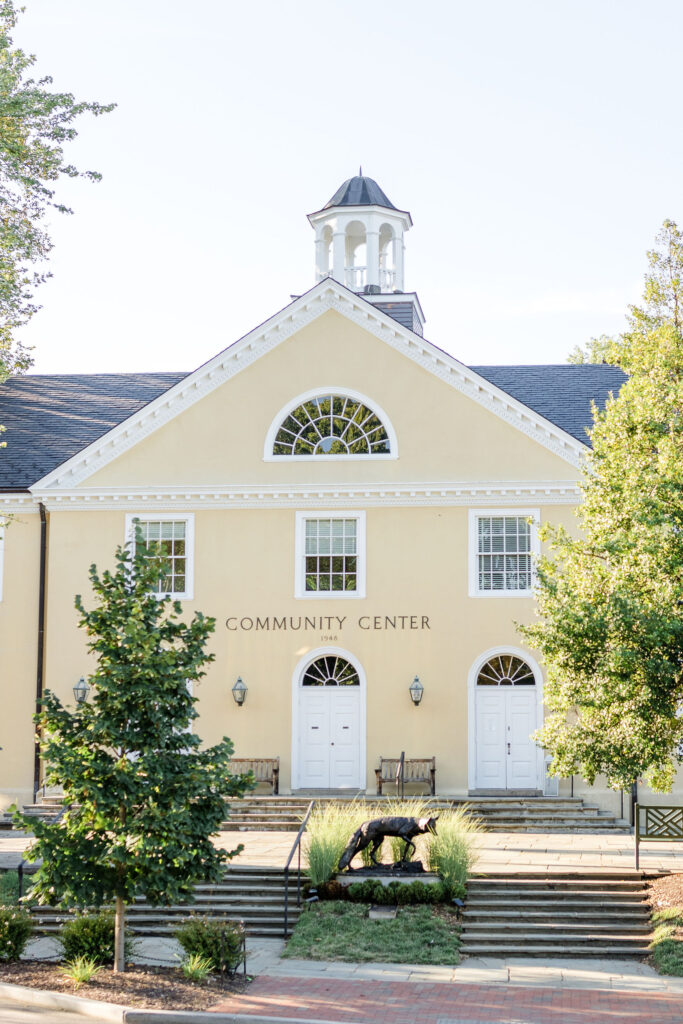 Olivia Rogers remembers it as a simple request: The groom wanted to ride a white horse up Washington Street and meet his bride on the Middleburg Community Center's steps.
As the center's executive director, Rogers says she "didn't want to say no, because I am not a 'no' person. I explained that this is Middleburg and we love horses. But riding a horse on any part of Route 50 is not safe. We'd need some kind of police presence."
Rogers thought the gentleman understood. Part of her job is to approve everything that happens at the center. She then works with everyone involved to make sure the event happens smoothly.
On the day of the wedding, the groom mounted the horse on Pendleton Street, then trotted out onto West Washington. A construction vehicle blocked a portion of westbound traffic. Cars reduced their speed. Rogers' heart skipped a few beats until horse and rider safely gained the center's front steps.
"We try to meet most requests," she continues. "When people first see what we have here, they tend to make big plans. The only thing I ask is that they look at what we have here already."
When an afternoon hailstorm knocked out power, plunging a wedding at the Community Center into darkness, Rogers opened the "candle closet." "We have an entire closet full of candles. I passed them out. We lit them and, in the nine years I've been here — even during my wedding — I've never seen anything quite so beautiful."
Born and raised in Loudoun County, Rogers was married at the Community Center in 2013. A year later, she became the center's assistant director.
"This is the true hub of Middleburg. Just about everyone passes through here. We host galas, parades, movies, concerts, ballet, theater, fun things for kids like Hot Dogs on Halloween, a kind of personal favorite of mine because it's so nice for families. Or you can just hang out around the pool. There's nothing like it anywhere."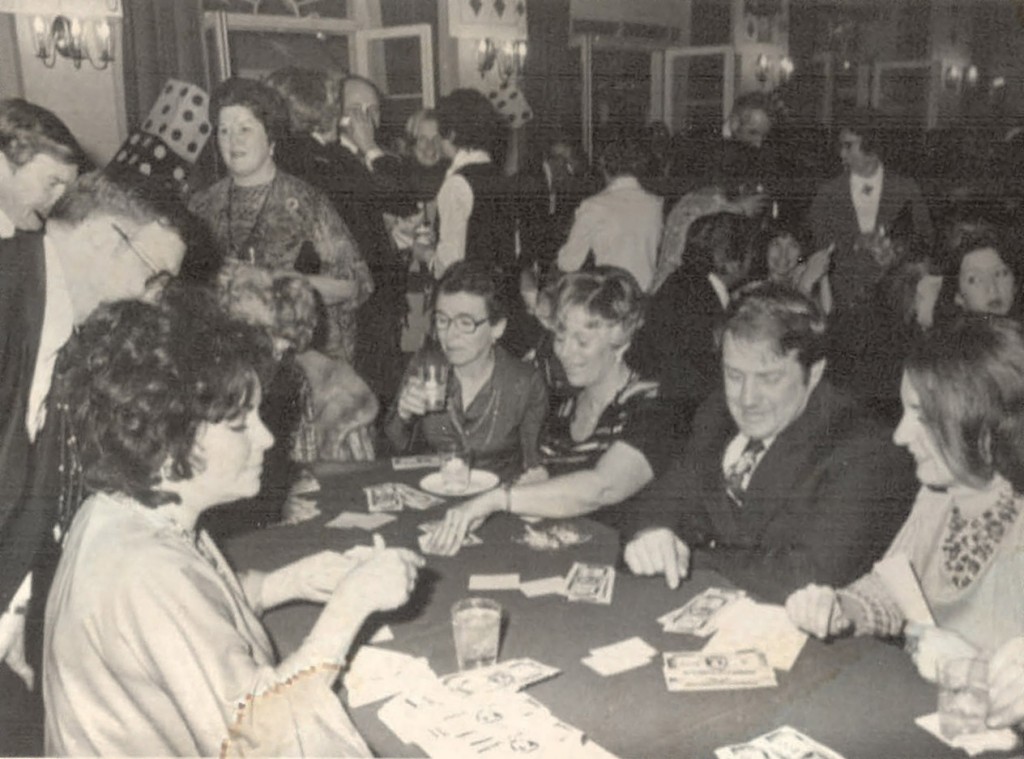 Current events held at the Community Center are, perhaps unknowingly, connected to the venue's past and by extension Middleburg's own history. Elizabeth Taylor played poker here. Hank Williams and Patsy Cline sang broken-hearted love songs on the ballroom stage. Jacqueline Kennedy and her husband, President John F. Kennedy, used it as a chapel. The celebrant who led the Mass, the Rev. Albert F. Pereira, became an important civil rights advocate.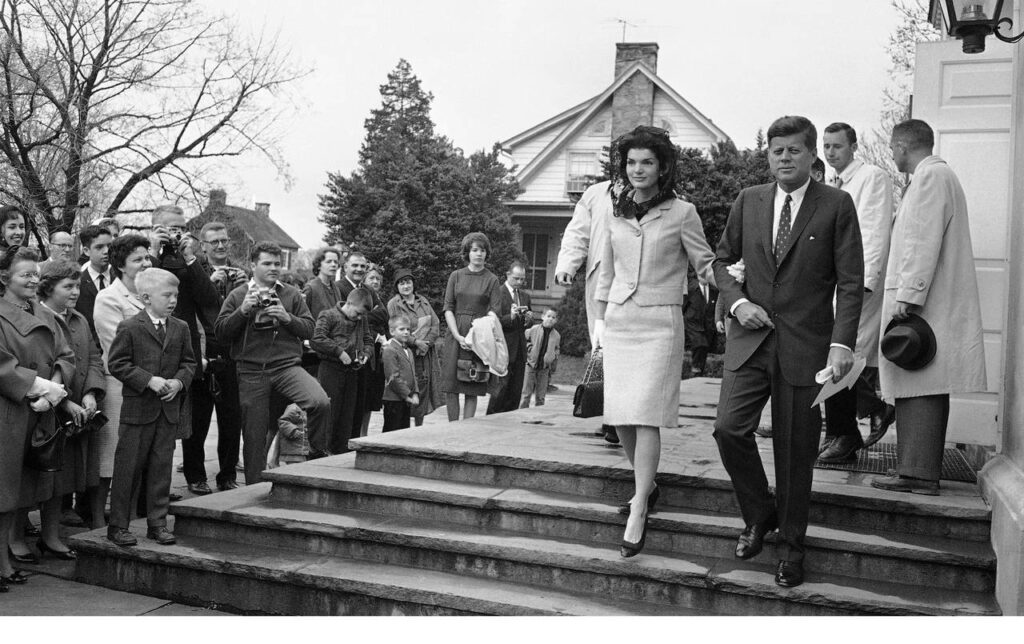 More recently, the Middleburg Film Festival uses the center's ballroom, screen, and dedicated projection booth. Upstairs, Academy Award-winning actor Robert Duvall's wife gave dance lessons. President Ronald Reagan dropped by. The center has seen the likes of Jacqueline Mars, Sheila Johnson, and just last year, Martha Stewart, who then went on to tour the town.
Everything about the center comes from Hunt Country: It was conceived at the end of the Second World War by Mrs. Howell E. Jackson of the Bull Run Stud Farm as a nonprofit community focal point, designed by local architect William Dew Jr. and constructed on a portion of Mrs. D. N. Lee's 25-acre horse farm.
During the design process, nearly 500 Hunt Country families were asked what kind of activities they wanted to enjoy at the center. The plans included a lending library (currently housed in the nearby library building), a full-service kitchen, classroom space, and a ballroom that could also double as a theater for movies, stage shows, and concerts. The basement once housed a bowling alley that has been removed, though one pin machine is visible through a glass plate. Outside is a swimming pool and a public garden perfect for picnics and weddings.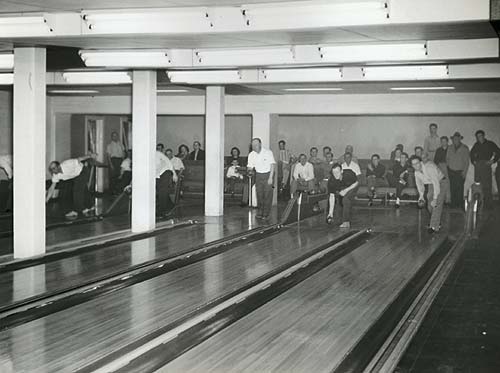 One thing that the center does not accommodate are political events of any kind. "That's in the by-laws," Rogers says. "No politics."
The Renaissance Revival façade fits so modestly into West Washington Street that it's easy to miss. Go through any of the three front entrances and you'll find a series of paintings in the lobby commissioned by Paul Mellon, who, with Bunny, donated a great deal of the center's original $470,500 cost, portraying the Hunt Country landscape and highlighting Middleburg's roots in agriculture, commerce, hunting, and equestrian events.
This year the center will celebrate its 75th anniversary with the addition of an outdoor pavilion that will act as a stage for outdoor concerts, and provide some shade for those lounging about the pool.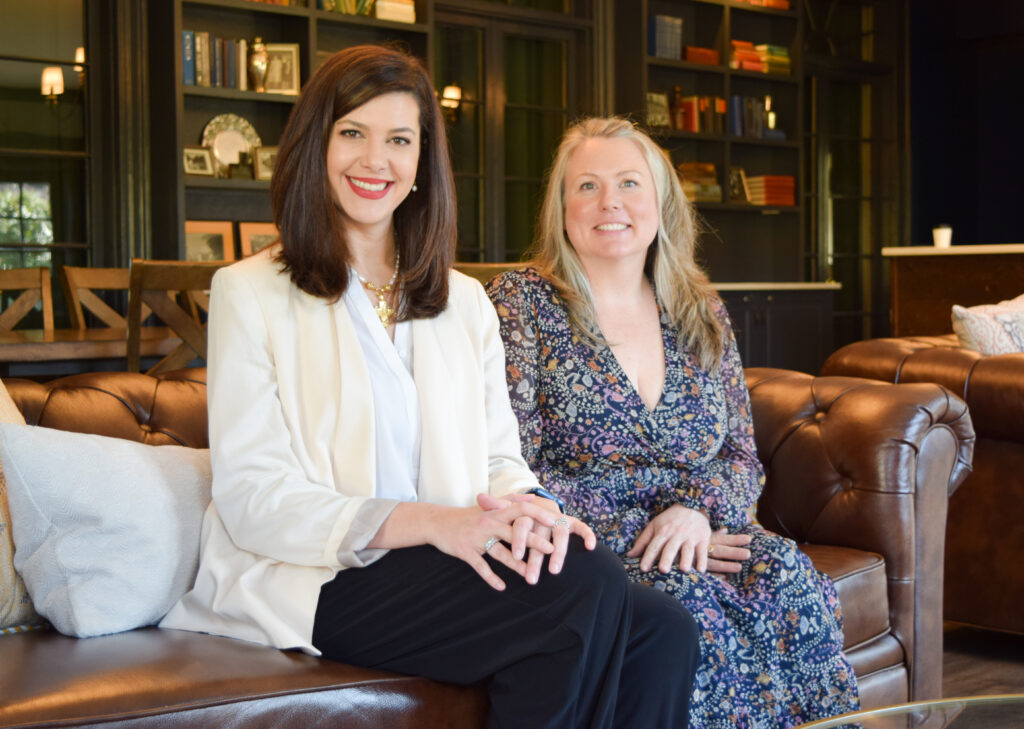 A transplant from upstate New York, Sue Foote loves the pool. She took her first plunge in the pool 20 years ago. As the mother of four sons, "I needed a place to tire the kids out, and this was perfect. I have so many great memories of the pool. It didn't matter who you were or where you came from. You felt welcome."
Four years ago, Foote became the center's executive assistant. Both Foote and Rogers live nearby, and one is on-site at all times. Those who want a tour of the center will usually have Foote leading them. "When I bring a group into the ballroom, I'll hear someone say, 'I did cotillion here.' When we go outside and they see the elm in the garden, I'll hear that their parents got married here. The memories come full circle."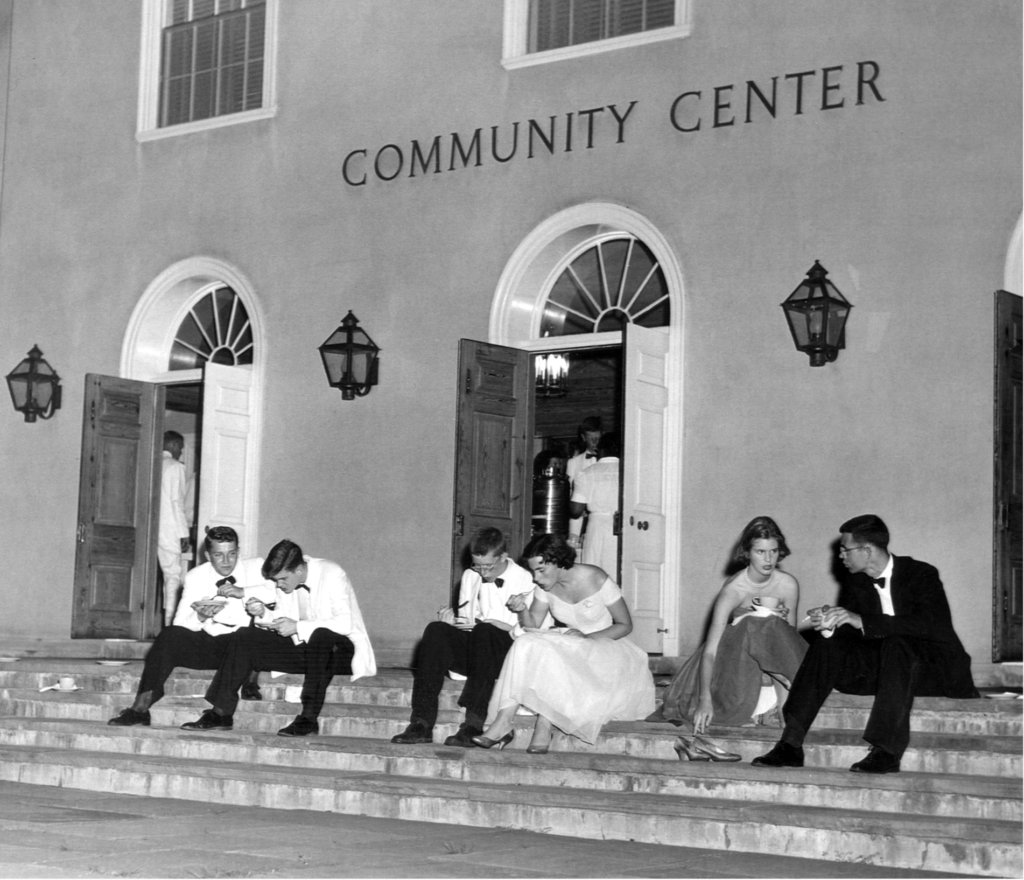 As have those of Melanie Blunt, vice president of the center's board. "Some of my very best childhood memories were at the Middleburg Community Center." She went to birthday parties at the bowling lanes. "My mother was the music director for the Middleburg Players, and I remember attending the shows and practices at the center with her every summer. Of course, every Halloween ended at the Community Center with the contest for best costume."
Her father, Wharton Anderson, his brother Joseph and sisters Helen and Betty were often seen around the pool. Blunt's grandfather, Joe Anderson, played in the center's bowling and softball leagues and went to "sock hop" dances on the top floor. Wharton and Carolyn Boyd Anderson — Blunt's mother — had their wedding reception and attended casino nights there.
"I have enjoyed watching the center become a part of my kids' lives as well," Blunt continues. "They have attended preschool at the center and enjoyed climbing the playground. They swam at the pool during Hill School summer camps. My family watched the fireworks every July Fourth. We attended Halloween festivities every year. Those are special memories. Now, as an adult, the holiday ball is my favorite event at the center. Olivia, her team, and many board members spend days decorating. It's always so beautiful."
Last autumn, Blunt went to a 60th anniversary party of a wonderful couple who've been in Middleburg since childhood and raised their family here. "It was touching to see them celebrate with their children, grandchildren, and all of their friends." For Blunt, and all of Hunt Country, the Middleburg Community Center "is about building memories." Special memories. ML
Published in the February 2023 issue of Middleburg Life.