by Katy Carter
The Piedmont Fox Hounds Hunter Trials promises to be an exciting and fun-filled day of competition Oct. 2, 2016. Through the generosity of Shelby Bonnie, MFH, this event will return to the historic Salem Farm Show Grounds in Upperville, Virginia.
The competition is open to all equestrians, foxhunters and non-foxhunters alike. In addition to classes in the Grand Prix field on established, undulating turf, horses and riders will vie for honors over impeccable all-weather footing in the Grand Prix ring. This is your chance to seize the opportunity to experience competing in the phenomenal show rings and on the beautiful turf of the Upperville Colt and Horse Show.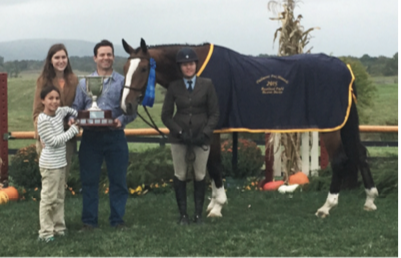 Organizers have designed a new schedule of classes designed to reduce competitor wait times and make the day more efficient. Middleburg Real Estate will once again sponsor the popular hospitality tent, stocked with food and beverage for all competitors. Embroidered championship and high-point award coolers have been generously donated by Morgan Stanley, Farm Credit of the Virginias, AHT Insurance, Tri-County Feeds, Merrill Lynch, Stoke Farm, Alcock Equine Dentistry and the Bondi Family. Dover Saddlery has sponsored gorgeous leather halters for division champions and leather lead shanks for division reserve champions. In addition, trophies will be awarded to the winners of each class. Competitors should be prepared to save their back numbers—The Tack Box Inc. will give a 10 percent discount to each exhibitor who brings their hunter trial number into the store when they purchase an item.
A new addition to the already beautiful course of jumps is the Sheep's Pen, sponsored by Gum Tree Farm. Used in the past at the Pennsylvania National Horse Show's Hunt Night, the Sheep's Pen features an operational gate that will test hilltoppers and Derby contestants in handy
hunter skills.
Whether you're preparing for the North American Field Hunter Championships, introducing a horse to competition, or just out to have an insanely fun day, the Piedmont Fox Hounds Hunter Trials is the perfect venue. If you are not planning to ride, come watch the action or volunteer a few hours of your day. Come support the Piedmont Fox Hounds and the hunting community.
Courtesy photo: 2016 Piedmont Fox Hounds Huntland Derby winner, Deister 1 Z, owned by Old Welbourne Farm and ridden by Haley Alcock.