Sandy Danielson Exhibits Artful Innovation
By Caroline Fout
Sandy Danielson has an eye for all things beautiful.
The Minnesota native and longtime resident of Middleburg proudly displays the work of a multitude of local artists in her gallery Artists in Middleburg. Occupying the airy space on West Washington St. since the fall of 2014, the gallery has been home to an organization that places an emphasis on local artwork and the artist community.
Danielson provides members as well as art-lovers a way to share, see and enjoy.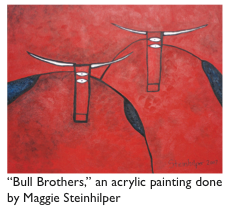 "We just became a non-profit in October and that's always been the goal," Danielson said. "We're having monthly themed exhibits that are juried, because we believe that juried exhibits are a benefit for the community. We're trying to choose excellent art and not just what the artist wants to sell."
For a one-woman-show running the operation, Danielson has her work cut out for her. She regularly enlists the help of volunteers as well as interns, but she single-handedly mans the gallery.
Although a majority of the paintings adhere to the current exhibition theme, artists can submit work to be placed in the "Chaos Exhibition Gallery."
"When the Artists in Middleburg first started, they had chaos-themed exhibits, which meant that there were a variety of mediums, and a variety of subjects," Danielson said. "This is the first month we're doing this."
Danielson emphasized that "education is paramount," and every Monday in the gallery is an open studio, complete with a live model. Danielson has also enlisted the help of Krister Killinger, an artist and art educator who will be organizing a Cartoon Drawing Camp for kids starting in July.
"I think we are going to have adults who are going to want to take that too," Danielson said with a smile.
Danielson also has a passion for photography and film as well as painting and sculpture. Following her graduation from the University of Minnesota, she continued her studies at the Corcoran School of the Arts and Design. While focusing mainly on visual arts, Danielson also took classes in humanities and drama.
Upon her move from Minnesota to Alexandria, Virginia, she began work at the Textile Museum in Washington. Relocating to Middleburg in 2000, she was thrilled to be closer to her beloved thoroughbred, boarded at a small farm outside of town.
"He's 27 now and the love of my life," she said.
The Artists in Middleburg Gallery embodies a "natural outgrowth" of Danielson's "love and experiences." Her first exhibit was held in the fall of 2014, and Danielson admitted "we're very young and still have growing pains."
The organization itself was originally a much more casual affair. Danielson has taken Artists in Middleburg a step further, with one of her main goals to "bring artists together, and make a statement."
The gallery's inclusion of the work of local artists stretches to a 50-mile radius, and as Danielson explained, "a lot of the work tends to reflect the area." Those traveling from D.C. and neighboring cities tend to gravitate towards paintings of landscapes, horses, and various farm animals, taking part of the country home with them. The pieces featured in the gallery can range anywhere from $300 to $2,500 dollars, depending on their size and medium.
Danielson has incorporated a smaller room in the gallery dedicated to supporting youth programs. Mugs, notepads, cards, as well as small paintings can be bought and the proceeds will go to the youth program fund.
"For me, I need to feel something, there is an emotion that needs to come through," Danielson said, describing her method of picking out her favorite paintings. And what's the best way to go about finding and purchasing a painting?
"Just fall in love with it and enjoy it," she said. In her passion for all things art and the development of her gallery, Sandy Danielson has done exactly that.