Artist Robin Hill reveals Mother Nature's wonders
By Morgan Hensley
During a recent visit to the studio of painter Robin Hill, a Gustav Mahler symphony played on vinyl and afternoon light brightened the white room. Paintings of beetles, a moonlit beach and a stoic bull adorned the walls. Neatly dressed in a periwinkle oxford shirt and a cravat, he showed me the side room that he will turn into a gallery of his latest works next spring.
"People come up to me at parties and ask, 'Are you still painting?' I say to them, 'What else would I be doing?'" Hill said. "I stay busy for an old guy. My ideas are getting more adventurous. I'm tackling more difficult paintings with a bravery that has almost taken me by surprise."
Hill's life overflows with artistry and exploration, the two inextricably bound. Born in 1932 in Brisbane, Australia, his family moved to England where he was educated — begrudgingly. "The first day of kindergarten, I looked around and thought, 'Not for me.'"
In his youth, Hill displayed an artistic inkling fueled by an intense curiosity about the natural world, an attitude he continues to exude. "I was a little bird watcher, with my field guides and binoculars, out there with other kids and their fishing poles and butterfly nets. I've been an observer and absorber of the natural scene my whole life: watching the way leaves turn when the wind blows or noting the color of the underside of a bird's wing. That's always been part of the way I see and live."
He trudged through primary school before enrolling at the Wimbledon School of Art when he was 14, though he'd taken classes there since he was 11, the youngest student by far. When his family moved back to Australia two years later, he transferred to the National Gallery of Victoria Art School, but was stifled by the formalism of the program.
After two years of classes, he transferred to the Royal Melbourne Institute of Technology. He remained there for a couple of years during which he studied typography and illustration until he decided "that was enough school for a while."
During his hiatus from higher education, Hill embarked on a three-year expedition through the bush, working as a cowboy, blacksmith and sheep shearer. The retreat was a necessary part of his artistic development in the same way that Thoreau's sojourn at the Walden Pond cabin allowed him to gaze upon the environment from a renewed vantage.
Those years of bushwhacking sharpened Hill's observational skills while the life of a traveling shearer exposed him to new regions and hitherto unseen flora and fauna. "I saw so much of life, of people, of the country. I was drawing constantly," Hill said.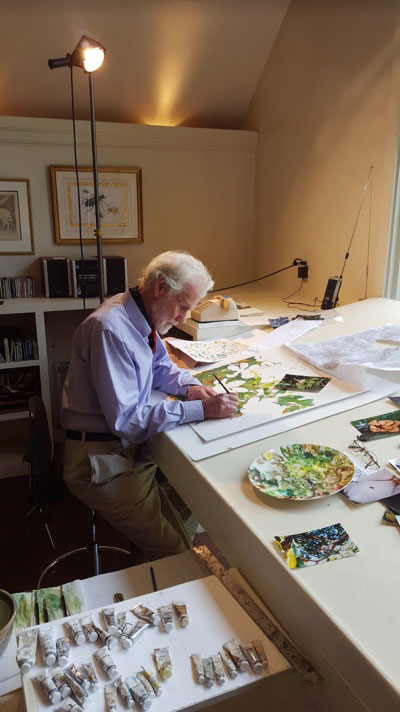 Upon returning, he finished his education, graduating two years later, before freelancing for publishers while painting birds as a hobby. He worked as a graphic designer with the Australian Broadcasting Corp. while he completed work on his first book, "Bush Quest," a collection of musings and meditations on nature paired with gorgeous illustrations.
A producer read the book and noted the pieces read like a script. The book was adapted into a television show, "Bush Quest with Robin Hill."
"[The program] was charming, simple, primitive," Hill said. "We thought, 'Let's go out with cameras and see what's in nature.' That was a new concept. We didn't even have the budget for color-stock film, so it was recorded in black and white."
Though only six episodes were filmed, the program was met with acclaim and intrigue and pioneered the wildlife documentary filmmaking genre that was adopted by the late Steve Irwin. "All that came out of one little book," Hill said.
Though the artwork in "Bush Quest" gained Hill an audience, the discrepancy between illustration and fine art created a gulf that he has sought to bridge throughout his artistic career. Critics routinely deem wildlife paintings "illustration," a supposedly lower art better suited to commercial purposes rather than artistic expression.
And yet, the line between illustration and art remains very fine, if present at all. "If the intention is simply to record, then however excellent or delightful it might be, illustration is usually the result," he commented.
Hill imbues his subjects with perspective, subjectivity and drama that lend his compositions a mystery and intrigue. His artistry draws from a panoply of influences ranging from Pablo Picasso to Chinese scrolls to Giotto, the Renaissance master.
What sets his art apart from mere illustration is the experience viewers have with his work. The goal of illustration is to show how something simply is. Looking at Hill's artwork, one feels how the subject is seen by Hill.
"Painting is a dialogue," he said. "It's a solitary voice in the wilderness until people look, then it is a conversation — one that not only celebrates the world, but also interprets it."
When Hill's first exhibition opened at the Australian Galleries in Melbourne in the '60s, there was no denying that it was art, a masterful depiction of the oft-overlooked natural world. The 20 or so paintings were bought, commissions arranged and a new career emerged.
His works were displayed in Sydney, London, New York, and in 1971, at the Sporting Gallery in Middleburg, which occupied the same building most recently inhabited by the Home Farm Store. Although he had plans to travel to southern Spain and paint, he instead visited Middleburg "to pop in," he said. "People like to meet the artist."
However, he met his wife, Marcia (née McGee), and decided to stay awhile. Middleburg has been his home since.
He showed me a career-spanning portfolio of drafts, sketches, works in progress and myriad finished paintings as he talked me through the process he has honed over the years.
"I make a little sketch, create many drafts and draw until I have a happy feeling. It's a gut instinct, not so much intellectual. I play and play until I suddenly think, 'Ah! There we are!' Once I'm started, I'm a very fast worker. Occasionally, I get myself into a corner and have to paint my way out, playing and experimenting until the work takes on a life of its own. That's the joy of oil painting: I can play forever."
This curious mind and discerning eye are apparent in every piece of his and in his demeanor. "I am led endlessly, delving into nature," Hill commented. "I seek to add something of myself to the painting. The only limits are personal." ML
See Hill's artwork online at robinhillartist.com.