Saturday
October 12th, 2019
Post Time 1:00 p.m.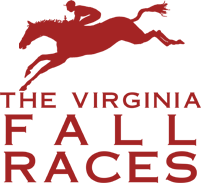 The Theodora A. Randolph
FIELD HUNTER CHAMPIONSHIP
FINALS  9:00 a.m. 

GLENWOOD PARK, MIDDLEBURG, VIRGINIA
For the benefit of
INOVA LOUDOUN HOSPITAL FOUNDATION
Providing quality and compassionate health care accessible to the entire Loudoun community. Funds raised will support their Greatest Impact Fund to support critical programs like Music Therapy and Child Life.
and
GLENWOOD PARK TRUST
Preserving the 112 acre park given to the community by Daniel C. Sands
for agricultural and equestrian pursuits.
RESERVED PARKING & BOXES FOR RACES
All Parking and boxes include car and four people
www.vafallraces.com • [email protected]
Click here for ticket information
 Races Run Rain or Shine • No Refunds • No Pets Please • No Pop-Up Tents