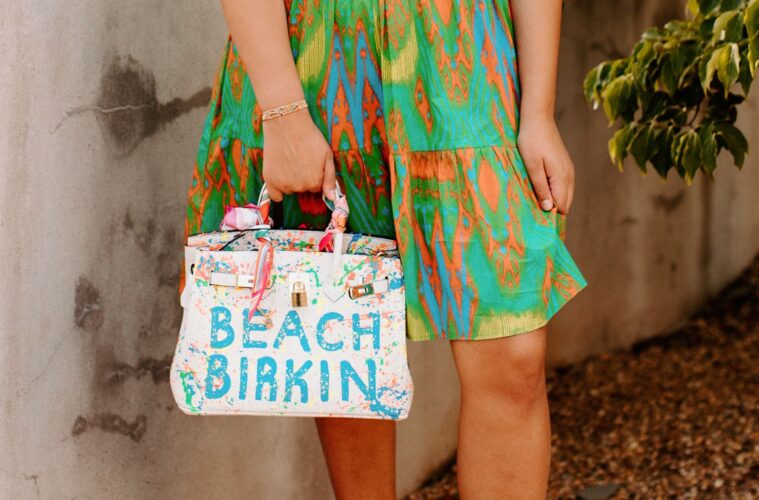 Three Eye-catching Summer Looks
Plus The Scoop on Shopping The Sidewalk Sales in Middleburg
Story and photos by Jennifer Gray
One of my favorite places to shop in Hunt Country is Chloe's of Middleburg. They have the best trends and appeal to an extensive age range of women. It's the kind of place I like visiting with another girlfriend. We rummage through the store, stockpiling eclectic styles, saying over and over, "Look how cute this is!" and rush off to the fitting rooms. Once there, we find ourselves crossing our fingers that we don't like everything we've collected because that will probably mean we're breaking the budget this month!
I stopped by recently to see what Chloe's had in stock that may be suitable for three different occasions coming up on my calendar. Check out my looks (modeled by Chloe herself) on the streets of Middleburg.
BEACH OR POOL DAY
• Kaftan in a light blue and white e-kat print with dramatic fringe details
• Sandals are handmade with neon colors and tiny charm dangles
• Middleburg bag and blanket exclusively made by Chloe's
• The necklace is a gold locket with bee detail by Susan Shaw
• Micro-bracelets by Caryn Lawn
DAYTIME PLAY
Short sleeve dress by La Plage in a neon e-kat print
Beach Birkin bag by Anca Barbu
Tulip flats in the camelia color are designed by Ilse Jacobsen and come in a stretchy slip-on recycled material
Gold coin necklace by Susan Shaw
NIGHT-OWL DINING OUT
Spaghetti strap maxi dress in olive green cheetah print is by Brand Bizarre
Custom design denim jacket made from a scarf featuring a tiger with butterflies and unique cuff and print details
Camera bag with hand-beaded details and removable crossbody straps by Mary Frances
Heels in nude by Sam Edelman
Necklace with skull head in gun-metal
Don't miss Middleburg's annual Summer Sidewalk Sale on August 6-8. The sale will be held Friday and Saturday from 10 a.m. to 5 p.m. and on Sunday as posted by shops.
Shops with good sales include Crème de la Crème (pottery, ceramics, linens), Chloe's of Middleburg (women's clothing boutique) Tully Rector (shoes, clothing, accessories, and beauty products), Zest (clothing and accessories), Lou Lou Too (accessories), C.D. Rigden & Son Country Classics (men's and women's clothing), Moda Lookbook (women's clothing), The Christmas Sleigh (gifts and collectibles) and many more. Emmanuel Episcopal Church will be hosting a sale featuring new and used items from 9 a.m. – 4 p.m. on Saturday, and on Sunday from noon – 4 p.m.
At the west end, check out The Fun Shop (children's clothing, party goods, decorative gifts), J.McLaughlin (clothing and accessories), PLAYroom (toy store), Highcliffe Clothiers (men's and women's clothing), and Stitch (needlepoint shop) also located on the west end of town. Le Boudoir (lingerie) and the Community Shop (consignment) are located on Madison Street. The Tack Box will be offering discounts on equestrian-related products such as riding gear and gifts.
The National Sporting Library & Museum on The Plains Road and Middleburg's fine restaurants scattered along Washington Street and
Federal Street offers a lovely respite from bargain hunting. There are several outdoor dining and curbside pick-up options available. Restaurants in town include The Red Fox Inn (contemporary American food), Cuppa Giddy Up (coffee and tea), Scruffy's Ice Cream Parlor, Red Horse Tavern, The Bistro at Goodstone Inn, Middleburg Common Grounds (coffee, tea, and sandwiches), Market Salamander (gourmet market and café), Middleburg Deli (sandwiches), Mt. Defiance Cidery & Distillery, Old Ox Brewery, Gold Cup Wine Bar, Harrimans Virginia Piedmont Grill, Side Saddle Café (farm market and café), Teddy's Pizza (pizza and subs), Wild Hare Cider Pub, Upper Crust Bakery, Best Thai Kitchen, Thaiverse 2, Red Bar Sushi, and King Street Oyster Bar. ML
Visit visitmiddleburgva.com or facebook.com/MiddleburgBusiness for event updates on the sidewalk sale.
This article first appeared in the August 2021 Issue.