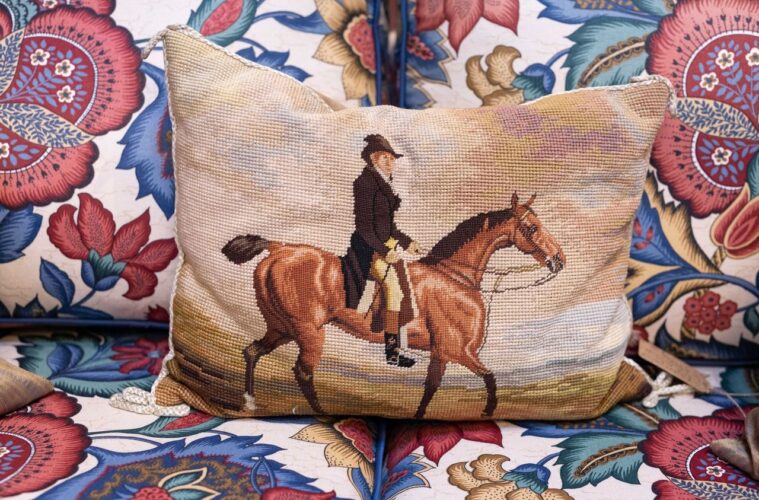 Written by Shayda Windle
Photos by Callie Broaddus
If Hunt Country is anything, it most certainly is not a place lacking in things to do or see. In addition to pastoral views of the Blue Ridge and Bull Run Mountains, famed foxhunts, and steeplechase races, there is also a vibrant shopping district in the town of Middleburg that keeps visitors coming back for more. With its tree-lined brick sidewalks and 18th-century buildings, historic Middleburg has rows of lively restaurants and boutiques that attract people from all over. This intriguing mix of old and new can be found at Another Blue Moon, a luxury consignment shop in the heart of town. The unique secondhand store offers an assortment of antique and vintage furniture, decorative accessories, collectibles, and home goods.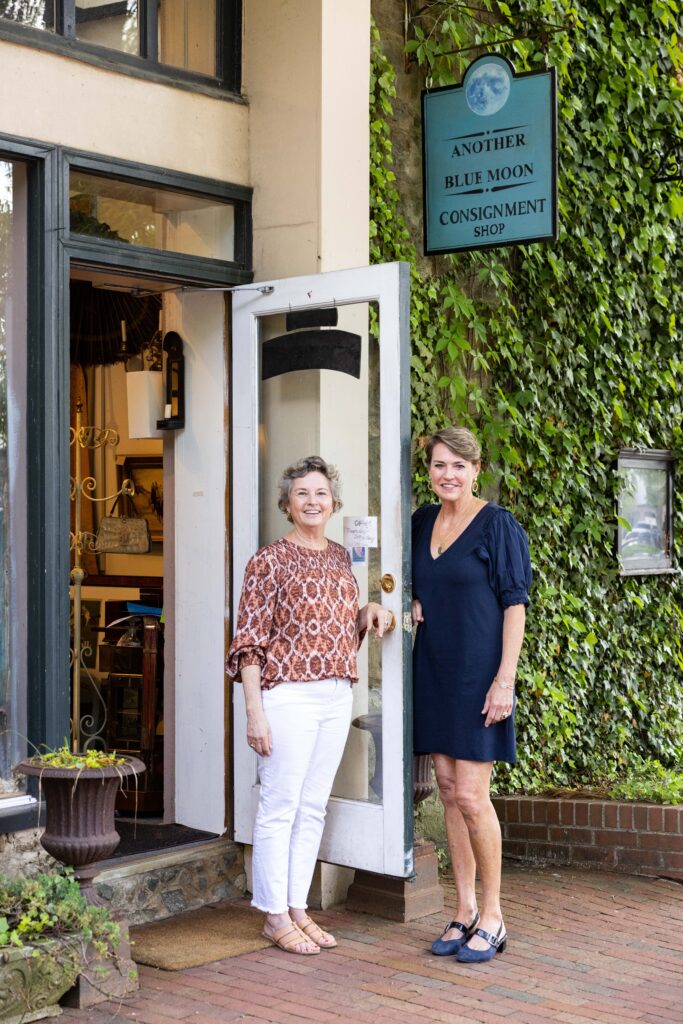 What started out as a pop-up founded by six friends in 2018 has evolved into the brick-and-mortar retail store you see today on Washington Street. The store is co-owned by longtime friends Kerry Dale and Jennifer Andrews. As people began cleaning out their homes and looking to recycle possessions during the pandemic, Dale and Andrews saw an opportunity to continue the venture. At Another Blue Moon, you'll find beautiful furniture, vintage mirrors, lamps, tables, rugs, tea sets, and so much more. What makes this boutique so special is that most items come from local homes and friends of the owners. So, when you buy a piece from Another Blue Moon, you're not only supporting the local economy — you're also giving back to the community of contributors who have decided to consign their goods here. You're buying something special from another person's sanctuary and continuing that treasure's story.
"We take things that we know customers are looking for and are complementary to our design style and inventory."

-Dale
Dale says, "Because of our community and the nature of it, and as the real estate market has exploded, our business has grown too. We added space this year and now have barn space in the basement of the Middleburg Professional Center." During the pandemic, Dale adds, "Instagram saved us. We would take photos and post them to social media. People would claim their goods online then come pick them up in-store." Andrews chimes in, "Instagram not only provides an outlet for home shopping and dreaming, but continues to offer comic relief even today. What else could make you laugh about a needlepoint pillow, a Herend cat, or a shapely French chest? We learn something every day about the business and there's always a fresh challenge around the corner."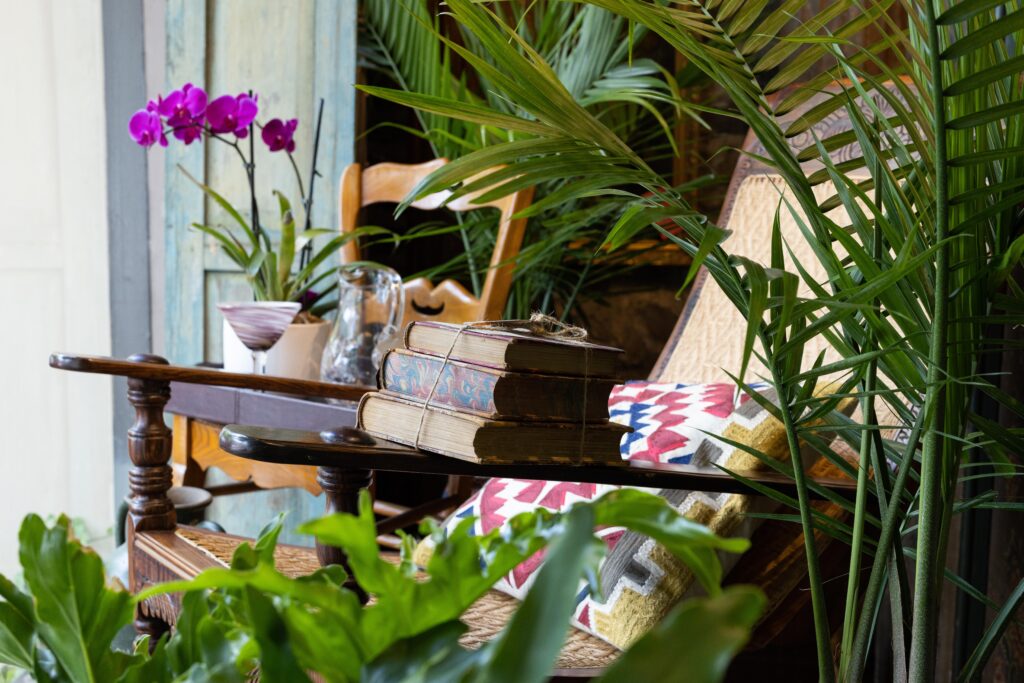 Left: A stack of books perfect for a home office. Center: Dale surrounded by the shop's many treasures. Righ: Hunt Country accents are in no short supply.
"Many times, people will send me twenty pictures of what they want to consign, but we must curate what we take," Dale explains. "We take things that we know customers are looking for and are complementary to our design style and inventory. We carry anything from antiques to contemporary to transitional and more traditional goods." Another Blue Moon also considers whether items are on-trend, the condition they are in, and seasonality as they curate their collection. They will generally hold items for about 90 days, but Dale says they try very hard to sell with a quicker turnaround.
"If you don't love what you do, then why do it?"

-Andrews
It's clear how much these two women enjoy the process of building a business together, and their passion for "finding a new life for something that still has life in it" is even more inspiring. But perhaps Andrews puts it best. She says with a laugh, "I feel like I'm in an episode of the Beverly Hillbillies, driving through Loudoun with a van full of old furniture to drop off at a barn. If you don't love what you do, then why do it?" ML
Another Blue Moon is open Thursday, Friday, and Saturday from 11 a.m. to 5 p.m. and by appointment. Be sure to stop by the basement area of the Middleburg Professional Center on 119 The Plains Road for more from Another Blue Moon. You can also check them out on Instagram @anotherbluemoon to see what's available now. New inventory is added regularly.
This article first appeared in the June 2022 Issue.