We begin with news from "over the mountain." Morgan Stanley has sent word to Middleburg Life that C. Greg Ellison of Millwood, resident manager and wealth advisor, and his son Charles M. Ellison of Winchester, a financial advisor in wealth management the firm's office in Winchester, have attained the designation of Family Wealth Advisor (FWA).
The FWA designation is granted to financial advisors who have successfully completed an accreditation program focused on skills to assist families communicate about money goals and to grow and protect wealth across generations.
"This is an exceptional achievement for Greg and Charles and an attestation of their ongoing commitment to serving the unique needs of our clients and their families," said Michael Robinson, complex manager of Northern Virginia. "Greg and Charles have demonstrated a disciplined, diligent approach to understanding how family circumstances and dynamics can influence and impact short- and long-term personal and financial goals. Their proven ability to work with families to develop a framework for their financial future helps to set them apart from others within the industry."
Greg Ellison and Charles Ellison, former long-time Middleburg residents (Charles is a Hill School alum) remain familiar faces in the area and have been members of the financial services industry since 1978 and 2005, respectively. As financial advisors with Morgan Stanley, they offer a full spectrum of financial planning and
investment strategies designed to meet the needs of clients and
their families.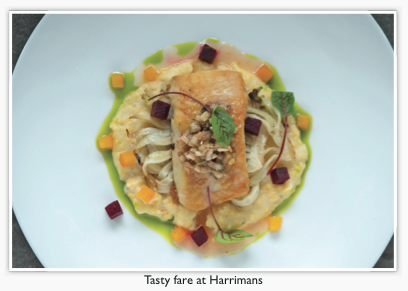 Harrimans, Salamander Resort & Spa's signature restaurant, has made significant changes to its menu, the better to honor the Virginia Piedmont cuisine by sourcing a majority of its meats and produce from many local farms in in the Middleburg area. The restaurant also is growing a variety of fruits, vegetables and herbs in the resort's own culinary garden, and utilizing honey grown from its own hives.
Harrimans menu now includes the addition of more shareable plates, a butcher's block section with numerous steak options as well as seafood and vegetable items that are representative of the Piedmont and Tidewater regions. In addition to the menu changes, Salamander is using its adjacent cooking studio as a signature chef's table dining experience, and is adding a Virginia-inspired martini menu. Live music also will be included on select evenings to create a more lively atmosphere.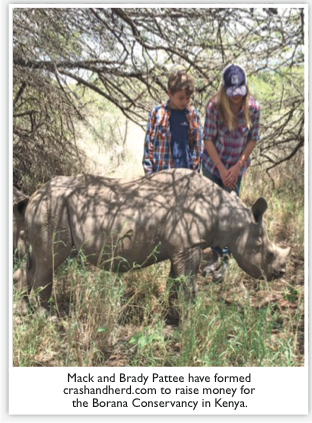 Mack and Brady Pattee, ages 12 and 13, are raising money and awareness for the rang-ers at Borana Conservancy in Kenya and their efforts to save rhino and elephants. In an exclusive interview with Middleburg Life, they described how the rangers risk their lives every day to save the animals and that more than 1,000 rangers have been lost in the last three years.
Mack and Brady have staged two events in Middleburg to help raise funds. First was a successful a movie night showing of The Lion King. "Because Disney was inspired by Borana and made the film about them," Brady said. Next up is the Salamander Run Wild 5k Fun Run on Sunday, July 31 at 9 a.m. hosted and supported by the Salamander Resort. "About 100
elephants each day are killed by poachers each day," Brady added.
All of the money they raise will go Borana Conservancy. They need runners to participate, so lace up your shoes. There are raffle prizes, too. Go to www.crashandherd.com and click on the red button link or go to https://runsignup.com/Race/VA/Middleburg/SalamanderRunWild5kFunRun. "At this rate the elephant and rhino will be extinct in 10 years – or less, " Mack said.
Windy Hill Foundation, together with Flatiron Partners, has announced it has been awarded tax credit funding from the Virginia Housing Development Authority (VHDA) to build Heronview Apartments, 96 units of affordable workforce housing at Kincora—the 6.7 million square foot mixed-use development at the corner of Route 7 and Route 28 in Ashburn. This VHDA award is expected to exceed $15 million in total funding.
This four-story, 120,000-square foot apartment building will offer 1-Bedroom, 2-Bedroom, and 3-Bedroom urban-style apartments with a mix of 2-story flats affordable to households with incomes at 50 per cent of area median income or less. Rents will range from $915 per month for 1-Bedroom nits up to $1,135 for 3-Bedroom units. Heronview will offer ten fully-handicapped accessible units that will rent to households in a range between $505 to $965 per month. The building is expected to be completed in 2018.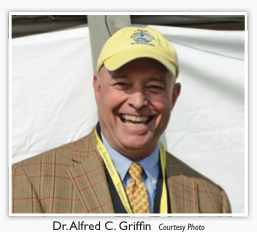 Local Orthodontist Dr. Alfred C. Griffin, Jr. has accepted a faculty position at Harvard University School of Dental Medicine where he is teaching post-doctoral residents in the Department of Orthodontics.
"The residents are the best of the best, and they keep you on top of your game," Griffin said. "Their enthusiasm is contagious, and makes the bi-weekly flying commute so worthwhile." Griffin previously held an associate professorship in the Department of
Orthodontics at Georgetown University School of Dentistry. He is also in private practice in Middleburg and Warrenton.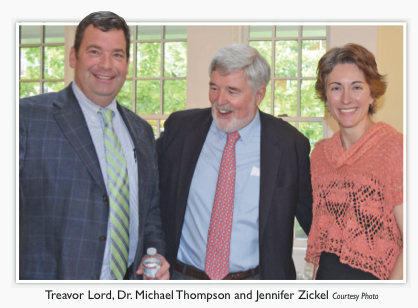 During a recent two day visit to Hill School, Dr. Michael Thompson, a nationally-known psychologist, educational consultant, and author, met with parents, teachers, students, both in groups and individually. His topics ranged from friendship development to how to raise responsible children. All of his presentations were highly interactive as Dr. Thompson welcomes questions and participation from his audience.
Jennifer Zickel, mother of two Hill School students, said, "hearing Dr. Michael Thompson was extremely affirming. We live in a culture that puts a tremendous amount of pressure on individual, quantitative achievement. For many, it is hard to keep that worry out of our homes, as our children navigate their school years. However, at Hill, we're reminded by teachers, administrators, and speakers like Dr. Thompson, that we must be patient with our children and take the long view. What we, as parents, are concerned about now is likely not to be a problem in our children's future."
Dr. Thompson will return to Hill School for three multiple-day visits during the 2016-17 year.
Kensington Court, owned jointly by Robert Bonnie, Nicky Perry and Andrew Stifler, won the Maiden Hurdle race on May 28 at Fair Hill Races in Fair Hill, Maryland and broke the track record for 2 1/4 miles at 2:09 4/5 held by his stable mate, Cocodimama. He's trained by Julie Gomena of Middleburg. It was Kensington Court's first win over hurdles after being claimed at The Monmouth, N.J. races last fall. He was ridden by jockey, Mark Watts of Camden, S.C.
Megan Holdeman Lee graduated from the West Virginia School of Osteopathic Medicine (WVSOM) with a degree of Doctor of Osteopathic Medicine on May 28. Lee is the daughter of William and Valerie Lee Lee of Middleburg. She earned a Bachelor of Arts degree in economics from Bucknell University in Lewisburg, Pa., in 2010 and is a 2006 graduate of Wakefield School in The Plains. She plans to enter an anesthesia residency at Georgetown University in Washington, D.C.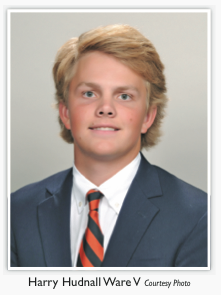 Harry Hudnall Ware V graduated during the 127th commencement exercises at Woodberry Forest School in Orange on May 28 and will attend the University of Colorado Boulder. He's the son of H. Hudnall Ware IV and Mrs. Andrew R. Bishop of Middleburg.
Paula Rothwell has been named managing director of Middleburg's "A Place to Be." She comes to the program from the Alternative Paths Training School in Alexandria, an educational, vocational, behavioral consultant school for students and adults with developmental and other disabilities.
Middleburg Life has received word from Lisa Goshen, chairman of the board of directors of the Blue Ridge Wildlife Center in Boyce that David Bancroft will soon be leaving as executive director. He has overseen construction of the new wildlife hospital and we wish him well. Meanwhile, a search committee has been formed for a replacement.
The Mosby Heritage Area Association, the nonprofit preservation and education organization, recently dedicated a marker hosted by the Loudoun County Civil War Sesquicentennial committee at Middleburg Baptist Church in Middleburg to commemorate the Middleburg Baptist Church and Sharon Cemetery.